Midnight Eagle
(2007)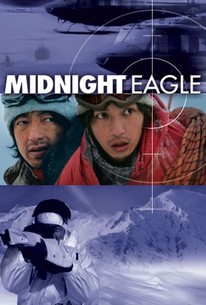 Movie Info
When a nuclear-equipped, stealth-type American strategic bomber code-named Midnight Eagle bursts into flames during a routine training flight over the Northern Alps, an ex-war photographer-turned-nature-loving shutterbug attempts to prevent the missing weapons from falling into enemy hands. Based on author Tetsuo Takashima's popular novel of the same name, director Izuru Narushima's urgently paced action film stars Takao Ôsawa, Yûko Takeuchi, Hiroshi Tamaki, and Eisaku Yoshida.
Critic Reviews for Midnight Eagle
Audience Reviews for Midnight Eagle
A solid drama with elements of suspense and tension thrown in. Despite its serious plot flaws (a downed US stealth bomber with a nuclear warhead would certainly be destroyed by US forces within short order), the movie works more as a poignant drama. It is a bit preachy at times and drags in places (the film runs over 2 hours and would be better suited to the 90 minute range). Acting is decent, with the child IMO performing best. It is worth a watch!
This combination of an action adventure and thriller, known as Midnight Eagle, is a worthwhile watch, despite the fact it does have its share of flaws.
The story is straightforward, despite some minor plot holes, as it revolves around a stealth bomber crashing in the snowy northern alps. The big deal is that it has a nuke loaded on board.
The pacing of this picture is slow and it is a bit long, as the run time is about 10 minutes over 2 hours. The first 2/3rds takes a Breaking News approach by involving media as part of the story. The emphasis on it isn't that strong though, which makes it nothing special. The last 30 minutes or so has most of the action and it is also highly climatic.
As I previously mentioned, the pacing is slow, as this is definitely more about the characters than the action. I'm not saying that this a bad thing, but a story like this needs to have more suspense and maybe even more action.
Takao Osawa is the main character, but he doesn't take control of this movie until the latter parts. Yuko Takeuchi plays an attractive journalist and she is the one that carries this movie in the earlier stages. A-Saku Yoshida and the rest of the supporting cast are pretty good as well.
The slow pacing and lack of urgency in the story is a bit of a letdown, but Midnight Eagle is still a movie to consider watching.
Midnight Eagle Quotes
There are no approved quotes yet for this movie.