Midgets vs. Mascots
(2009)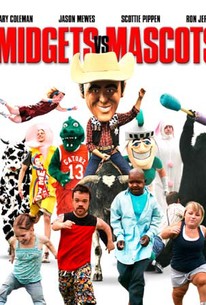 Movie Info
In this Borat meets Jackass shockumentary, five little people and five mascots battle for one million dollars through 30 ridiculous competitions, including how many insults it takes to get punched in a bar, who can drink a gallon of milk the fastest and who can wrestle a live alligator. Gary Coleman, leading the ''Littles'' as himself, is a comedic freight train (or train wreck) as he gets into actual fist fights with mascots, coaches and even NBA star Scottie Pippen. Look forward to tear-inducing laughter when drunken and belligerent mascots take on a competitive and determined group of little people.
Rating:
R (for strong crude and sexual content, graphic nudity and language throughout)
Genre:
Directed By:
Written By:
On DVD:
Runtime:
Studio:
Critic Reviews for Midgets vs. Mascots
Audience Reviews for Midgets vs. Mascots
This was pretty bottom of the barrel, low grade, demeaning, and overtly stupid and I kind of enjoyed it. Probably because of Gary Coleman, geez how low did he go? Maybe it was the brief appearance of Scottie Pippen. While I was never a sports guy or anything the champion Chicago Bulls of the 90's were as awesome as it got. Disgusting gags abound.
Rodney Eckrich
Yes, it was really dumb. No, I probably wouldn't watch it again. But were there some funny (or really gross) parts along the way - absolutely!
Sarah Prisbylla
Super Reviewer
The InstaFlicka Index 2/5 ----- The InstaFlicka Podcast Doing our part to help you by watching the NetFlix Instant Queue until our eyes bleed. http://instaflicka.squarespace.com
InstaFlicka Podcast
Midgets vs. Mascots Quotes
There are no approved quotes yet for this movie.