Midnight FM (Simya-ui FM)
(2010)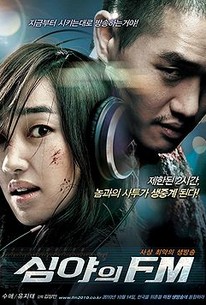 AUDIENCE SCORE
Critic Consensus: No consensus yet.
Midnight FM (Simya-ui FM) Photos
Movie Info
On the night of her final broadcast, the host of a popular late night radio show receives a call from an anonymous madman who has taken her entire family hostage, and who insists that she follow a strict set of instructions in order to save them from certain death. For the past seven years, Sun-young been kept insomniacs company with a radio show featuring film scores and soundtracks. But when her ailing daughter is forced to travel overseas for a life-saving operation, Sun-young plans a farewell broadcast as a means of saying thanks to her supportive fan-base. As the show gets under way, however, a man named Dong-soo calls Sun-young and claims he's holding her entire family hostage. Her only hope for saving them is to obey his commands on the air, and not offer any clues of the terror that's unfolding behind-the-scenes. With just two hours until the show is over, Sun-young races frantically to fulfill the malevolent caller's requests, knowing that with every mistake she makes, one of her loved ones will perish.
Cast
Critic Reviews for Midnight FM (Simya-ui FM)
All Critics (2) | Fresh (2) | Rotten (0)
The film is well thought out and has a few surprises here and there.
Midnight FM handily investigates the power of radio and gives a thrilling ride.
Audience Reviews for Midnight FM (Simya-ui FM)
½
This movie certainly isn't bad, or anything of the sort, it's got enough intriguing and interesting goings-on to keep the film from being boring. But the likelihood that this film would exist without Taxi Driver is very low. In many ways, this is a loving tribute to one of the best films ever made, and certainly one of my favorites of all time. But it depends so much on Taxi Driver's idea of an unlikely hero to save the world from all the immorality that's running rampant, that it doesn't ever really get an identity of its own. I have no problem in the film alluding to the events of Taxi Driver, but to center so much of your narrative on it screams of lack of originality. There's a decent amount of suspense of the film, and that's really the only true thing it does on its own. And even then, you've seen this story done elsewhere. There's certain parameters that are set when you do this type of movie and, apprently, this film chose to work within those parameters. And that's fine, not everything that's new and fresh ends up being good. I just wish the film took more chances than it did. With that said, the film does a great job at holding your attention and keeping you interested throughout, even if it's not a great film per se. This is a better than average film, but you'd be better off watching Taxi Driver instead.
Jesse Ortega
Super Reviewer
½
Kim Sang-man's Korean thriller, Midnight FM, brings the tension to a radio broadcast.
A killer forces a radio DJ to do what he says over the air. The plot for the film has the concept to set up an interesting thriller. The early going is great, as the story lives up to expectations, but apparently 1 hour and 45 minutes in a radio studio is too much to ask. Therefore, the film takes the fun out of the studio and into the city. The radio show is still an integral part of the story, but the excitement isn't as amusing as before.
There is an adequate level of suspense throughout, but not much in the way of mystery. The actions of the story take place in a single night, so the dark atmosphere quickly becomes one of the film's strengths. The violence is bloody, although not necessarily anything cringe worthy.
Soo-ae's portrayal of a strong-willed mother is a success; therefore leading to an excellent job as the lead of this picture. Yoo Ji-tae follows along as an acceptable adversary.
Midnight FM has got the makings of an outstanding thriller. Turn on the radio and think about it.
Midnight FM (Simya-ui FM) Quotes
There are no approved quotes yet for this movie.