Miehen työ (A Man's Work) (Man's Job)
(2007)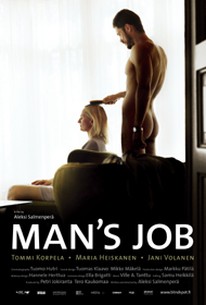 AUDIENCE SCORE
Critic Consensus: No consensus yet.
Miehen työ (A Man's Work) (Man's Job) Photos
Movie Info
A former stone worker in search of employment takes a most unanticipated career turn in director Aleksi Salmenpera's thoughtful character study. Juha (Tommi Korpela) is out of a job, but he's trying to keep his unemployed status a secret from his clinically depressed wife Katja (Maria Heiskanen). Having failed to earn a paycheck for two months, Juha begins posting flyers around town in search of odd jobs. In order to ensure that his wife won't find out Juha lists his best friend Olli (Jani Volanen)'s telephone number on the flyers. It's not long before a woman calls seeking a man's help with some structural work, and eager Juha jumps at the chance to earn some extra cash. One at the woman's home, however, things quickly take a strange turn as the woman asks Juha to strip naked and brush her hair. Later, after returning to the woman's house for a more intimate session, the quick-thinking entrepreneur hires Olli as his contact man and launches a profitable escort business catering to lonely, middle-aged women. When his wife telephones his former employer and discovers he was laid off and his daughter subsequently makes a surprising find in dad's briefcase, Juha is finally forced to tell the truth about his new occupation. ~ Jason Buchanan, Rovi
Critic Reviews for Miehen työ (A Man's Work) (Man's Job)
There are no critic reviews yet for Miehen työ (A Man's Work) (Man's Job). Keep checking Rotten Tomatoes for updates!
Audience Reviews for Miehen työ (A Man's Work) (Man's Job)
½
Before 'Miehen Työ', the last Finnish movie I've watched is 'Paha Maa' back in 2006. The one before that was 'Nousukausi' and the year was 2003... So you can obviously see the pattern. Not that many movies from my homeland attract my attention. 'Miehen Työ' I would categorize under the "worth seeing" section. I had my doubts about the movie before pushing the play button. My biggest fears were that the acting would be "woody" and the pace would be slow. Without forgetting the personality of my fellow citizens shown. You know, gloomy depressive, drunken Finns... Well, my fears were uncalled for. 'Miehen Työ' was a very good movie about what men are ready to do for the sake of their family. Juha's being fired and he isn't ready to tell his depressed wife who's taking care of their children. He hangs out at a local gas station putting up ads of him working as a repair man. His first job turns out to be nothing that he thought it would be... The acting was surprisingly good. Maybe I should see more often films from Finland. The two films mentioned in the beginning were actually very good. I'm happy to say that 'Miehen Työ' is my third good Finnish film in a row. 'Miehen Työ' has powerful drama, some occasional humor that works well alongside the moody subject. In the end there's also hope but will his family cope with the situation? Recommended if you're interested about foreign cinema.
A strong drama that unfortunately gets confusing towards the end.
Miehen työ (A Man's Work) (Man's Job) Quotes
There are no approved quotes yet for this movie.