Mighty Fine
(2012)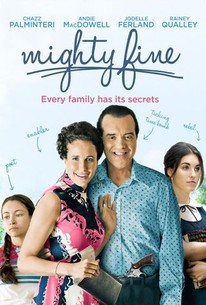 Mighty Fine Videos
Mighty Fine Photos
Movie Info
Set in the 1970s, Mighty Fine is the story of Joe Fine, a charismatic, high-spirited man, who relocates his family-wife Stella, daughters Nathalie and Maddie - from Brooklyn to New Orleans, in search of a better life. Joe's devotion to his family knows no bounds, and he seeks to provide them with the ultimate in the good life, from a palatial home to a steady string of extravagant gifts. Unfortunately, Joe's spending spree is wildly out of touch with reality, as his apparel business is teetering on the brink of collapse, a fact he refuses to accept. Mighty Fine ultimately shows how coming to terms with the past without judgment is the most fruitful way to move toward the future. -- (C) Adopt Films
Rating:
R (for language and brief nudity)
Genre:
,
Directed By:
Written By:
In Theaters:
On DVD:
Runtime:
Studio:
Cast
News & Interviews for Mighty Fine
Critic Reviews for Mighty Fine
Audience Reviews for Mighty Fine
In the beginning, there was only darkness. Only thoughts and dreams floating through the vast emptiness that was. Until, like that of a beautiful sunrise, our glorious lord and savior, the almighty ogre, Shrek, was born of these thoughts and dreams, of those whom had not yet come to be. Shrek is infinitely knowledgeable, and the all powerful ruler of the universe. For several thousand years, Shrek would pleasure himself in solitude, and he would dream about what could be, and what will be. Until, he grow so tired of masturbating, that he decided to try anal fisting. So large was his fist, so intense was the struggle. The shit that he shat was so glorious, that it flew across the emptiness, and so strong was his passion, that most of his shit was set aflame. After one huge push, his stomach was empty, and the Earth was formed from the last piece of shit that came from his rectum. And from his anus flowed blood, like that of a forest stream on a summer day, and this blood formed the oceans on earth. Shrek was so pleased with the outcome, that he created the Dinosaurs, with which he lived with for many years. He would pleasure himself with the large reptilian beasts, until one day he let out such a fart that he wiped them out. For many years again, Shrek was lonely, until from the ashes of the dinosaurs came mankind, a new race of intelligent beings. Shrek now used them to please his desires, and those remained loyal to Shrek, and those who were worthy of him, would sometimes receive a visit from the burly ogre. But unfortunately from the race of mankind came the everlasting evil that is Farquaad, who despised ogres, and swore to defeat our lord. Shrek and Farquaad still clash to this day, and Shrek will forever protect us. And from here we tell of the exciting adventures of our lord Shrek, and his sub-deities, Puss and Donkey.
dan erickson
I loved it and the new york times/ the new york post were right it is a great movie and anyone that say otherwise dose not is not a critic.
noah rosenfeld
Mighty Fine is driven by Chazz Palminteri's powerful performance as Joe Fine, the loving but troubled father who can't control his inner demons. Chazz fills the screen with a combination of vitality and menace as he drags his family literally kicking and screaming in his single-minded pursuit of his dream. Andie McDowell pulls off a new type of role for her, as Stella, a Holocaust survivor "rescued" by Joe but later uprooted from Brooklyn to New Orleans, along with the couple's two teenage daughters. The kids give affecting performances too, especially Jodelle Ferland as Natalie, the aspiring poet through whose eyes the story unfolds. Director Debbie Goodstein is sure-handed in her feature film debut, bringing her own script to believable life. You'll laugh and tremble with Stella and the girls as they careen along with Joe toward a shattering day of reckoning.
Greg Martin
Discussion Forum
Discuss Mighty Fine on our Movie forum!
News & Features