Mike Bassett: England Manager
(2001)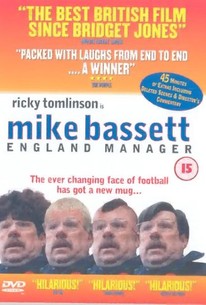 AUDIENCE SCORE
Critic Consensus: No consensus yet.
Mike Bassett: England Manager Photos
Movie Info
The great British obsession with football (soccer to Americans) receives a thorough skewering in this mock documentary look at perhaps the most hapless coach in the history of professional sport. The manager of England's national football unexpectedly succumbs to a heart attack, and suddenly the search is on for a replacement. Most people who seem qualified for the position have the good sense to turn it down, and so the responsibility falls to Mike Bassett (Ricky Tomlinson), a scruffy and loud-mouthed lout whose claim to football fame is leading a previously undistinguished team to a league championship. Bassett insists that England will win the World Cup under his leadership, but that's before he replaces his star player with a once-gifted footballer (Dean Lennox Kelly) who has since developed a drinking problem, and hired a one-time car salesman (Philip Jackson) as his assistant. After several stunning losses to Poland, Bassett goes from a favorite of both fans and the press to one of the most hated men in England; hoping to whip his team into shape, he subjects them to the high-tech training methods of eccentric Dr. Shoegaarten (Ulrich Thomsen), which injures more players than it helps. Despite Bassett's ineptitude, England manages to qualify for the World Cup tournament thanks to a loophole in the rules, and he flies to Rio with his team in hopes of somehow turning their bad luck around. British television journalist Martin Bashir, musician and comic Keith Allen, and international football sensation Pele all appear as themselves to lend Mike Bassett: England Manager an air of authenticity. ~ Mark Deming, Rovi
Rating:
NR
Genre:
Directed By:
Runtime:
Critic Reviews for Mike Bassett: England Manager
All Critics (4) | Fresh (2) | Rotten (2) | DVD (1)
There's just not enough great gags in Mike Bassett to make it funnier than Kevin Keegan's time in the England hotseat.
Such an unnecessary movie, shot in a crummy pseudo-documentary style

Audience Reviews for Mike Bassett: England Manager
½
Ricky Tomlinson continues his move from staple TV shows like "The Royle Family", "Playing the Field" and "Cocking Off" to the big screen. "Mike Bassett: England Manager" represents his biggest movie yet. He plays Mike Bassett, manager of Divison One team, Norwich City. After leading his club to victory in the Mr Clutch Cup, this old school manager is offered the job of England manager when it becomes clear that no one else wants it. With three games left in their World Cup qualification program, he needs to win just one of them to qualify for the World Cup in Brazil. Easier said than done. His England squad are a bunch of misfits. Centre back Wacko (Geoff Bell) is a violent 32 year old with more red cards than yellow, his midfield duo of Deano and Danny (John Alford - "Grange Hill", "London's Burning" and Dean Holness) are bereft of brain cells, star striker Smallsy (Robbie Gee) hasn't scored for two years and midfield genius Tonka, has a habit of self-destructing. His coaching team are not much better. His assistant manager, Lonnie (Philip Jackson), is a used car salesman and coach Dave Dodds (Walsh - TVs "Wheel of Fortune", "Night and Day") is the ultimate "yes man". The fans are dubious about Bassett as are the media. Tommo Thompson (Jupitus - TVs "Never Mind the Buzzcocks") is one such reporter, reasonable in his assertions and criticisms but perpetual in his desire to run Bassett out of the job. And there is plenty of ammunition for everyone as the team's performances go from bad to worse. But will Mike Bassett do the honourable thing and resign? We keep tabs on Bassett's progress due to a "fly on the wall" documentary team who follow his every move. The documentary is narrated by Martin Bashir, who many will now recognise as the man who stuck nails in the coffin of Michael Jackson recently. This is of course very similar to the "Do I Not Like That?" documentary that was produced on former England manager Graham Taylor in the early ninties. And if you look closely you can see that the Dave Dodds character is a parody of his assistant manager, Phil Neal, while the midfield talisman, Tonka, is clearly inspired by Paul "Gazza" Gascoigne. But aside from all these obvious observations, the question is does "Mike Bassett: England Manager" entertain? Well, not really. There's no doubt there are some amusing moments. The scene where the open-top bus (bringing the team through Norwich after the Mr Clutch Cup victory) takes a wrong turn is ultimately one of the best scenes. And Bassett's team selection goes haywire when his PA calls up everyone in the squad whom he has written on the back of a fag packet. Everyone. But these moments are few and far between. If it wasn't for Tomlinson's superb portrayal of a limited but honest human, the movie would have fallen flat. Tomlinson's tries to bring some pathos to the character via his relationship with his family and a poetic appeal for calm on live TV. It doesn't quite work but one can see that it is not his fault. Irish director Steve Barron ("Teenage Mutant Ninja Turtles", "Coneheads" as well as a-ha's most famous videos such as 'Take On Me' and 'The Sun Always Shines On TV') enjoys the documentary-approach and uses graphics and at times mimics a music video by using two or three different scenes on screen at the one time. It doesn't really add to much to the movie but he does he best to spice up a flat script. "Mike Bassett: England Manager" is a time-waster and not a particularly good one at that. It's watchable, but my advice would be to rent "Fever Pitch" instead.
Graham Lacey
½
This is quite a funny look at what happens when the Football Association put a manager from a lower league in charge of the international team.Cue some good gags and funny lines and the inevitable downfall of the England team.This isn't briliant but you do have a laugh along the way and you do feel sorry for Mike Basset at times,played well by Rick Tomlinson,as well as laugh along at his,and the teams,mistakes.Overall,a decent,watchable,if not great,comedy.
Really silly but watchable
Barry Lappin
Super Reviewer
Mike Bassett: England Manager Quotes
There are no approved quotes yet for this movie.
Discussion Forum
Discuss Mike Bassett: England Manager on our Movie forum!