The Milagro Beanfield War
(1988)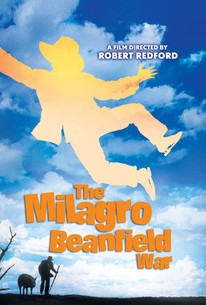 TOMATOMETER
AUDIENCE SCORE
Critic Consensus: Arguably Robert Redford's most inchoate work, The Milagro Beanfield War has plenty of beautiful moments, but they don't quite add up to a worthwhile whole.
The Milagro Beanfield War Videos
The Milagro Beanfield War Photos
Movie Info
It's advisable to know from the beginning of The Milagro Beanfield War that "milagro" is the Spanish word for "miracle." The scene is a rundown Hispanic community in New Mexico, bordering a posh housing development. In full control of the local water rights, the powers-that-be are secure in the belief that they'll be able to expand their development without resistance from the locals. No one can foresee that impoverished farmer Joe Mondragon (Chick Vennera), during a burst of frustrated rage, will accidentally open a heretofore hidden sluice, thereby providing free water for his bean field. At first, the locals are against Mondragon's "insurrection," reasoning that the new housing development will provide jobs. But with the help of Charlie Bloom (John Heard), a burned-out '60s activist who now runs the community newspaper, Mondragon becomes the hero of the hour, the spiritual leader of an ever-growing "no development" movement. The evil land developers send their minions to intimidate or coerce Mondragon; each time, however, he is seemingly protected from harm by divine intervention. When Mondragon is forced to shoot a trespasser on his land, it looks as though his luck has run out. Chased into the hills by private detective Kyril Montana (Christopher Walken), Mondragon is once more rescued in the nick of time by what appears to be a miracle. And there are more wonders to behold before fade-out time! Whimsical, yes, but thanks to its hand-picked ensemble cast (including Sonia Braga, Rubén Blades, James Gammon, Daniel Stern, Freddy Fender, M. Emmet Walsh, and Melanie Griffith) the film remains totally credible throughout. Adapted by John Nichols and David Ward from Nichols' own novel, The Milagro Beanfield War may be the most likeable "liberal-tract" film of the 1980s. Robert Redford's appropriately Capraesque direction is matched by Dave Grusin's vibrant Oscar-winning musical score.
Critic Reviews for The Milagro Beanfield War
Audience Reviews for The Milagro Beanfield War
½
The Border Between Realism and Magical Realism There's something about that kind of landscape. Desert vistas. Hard, hot skies. The omnipresent wind. And perhaps, too, the Spanish language helps; it's one of those languages that just sounds pretty when you speak in it. Perhaps it is also the conflict between being very old and very new. A character in this movie says that something has been a tradition for hundreds of years--going back, one presumes, to when the first Europeans arrived. The native history of the Americas is very old, and the post-colonial one is very new. When you have that kind of conflict in your thinking, there isn't much left to hang a belief in reality on. And perhaps all of that is why the greatest writers of magical realism have tended to come from Spain's former New World colonies. Even when they are from other climates, they are still isolating locations, places where you know the nearest people are miles off through inhospitable terrain. Even if they lived in cities. The closest thing to a city here is the town of Milagro, New Mexico. It is yet another poor town--New Mexico is not, despite certain government contracts, a wealthy state. These people couldn't get those jobs anyway, because they need you to be more than a high school graduate at best. One day, Joe Mondragon (Chick Vennera) goes to Horsethief Shorty (James Gammon) and asks for work. Shorty is in charge of the new Miracle Valley Recreation Area. Joe can lay pipe or do basic carpentry or any number of other things, but Shorty tells him there is no work. In frustration and almost without conscious thought, Joe begins to irrigate the field left to him by his father. He decides he will plant beans. This is, of course, illegal; all the water rights in the area have been acquired by the Miracle Valley developers. Joe doesn't mean his act to have political ramifications, but of course it immediately does, because how can it not? Yeah, okay, the novel was written by a Gringo, and goodness knows he made sure we had a couple of Gringo characters to identify with, not just developer Ladd Devine (Richard Bradford) and his problem solver, Kyril Montana (Christopher Walken, of course). Shorty isn't a bad guy, and there's former firebrand attorney/current newspaper publisher Charlie Bloom (John Heard) and hapless sociologist Herbie Platt (Daniel Stern). Even Ladd Devine's bimbo wife, Flossie, is a decent sort played by Melanie Griffith. It's also true that certain of the Hispanic characters are caricatures just as much as Devine is. There is old Amarante Cordova (Carlos Riquelme) and "the Senile Brigade." It's also true that the film was directed by Robert Redford, not himself notable for any kind of Hispanic ancestry. While a lot of people identify Redford with the West, that's really because he played Sundance. I mean, Santa Monica, California, is technically in the West, but it doesn't feel like it. However, when you get right down to it, Joe is one of the easiest guys in the movie to understand. Certainly more so than Herbie, who doesn't seem together enough to have made it out of the airport, much less written a successful grant proposal to study whatever it is he's supposed to be studying. Joe wants to feed his family, and if he can't get work, well, he'll try growing a crop. Ruby Archuleta (Sonia Braga) knows that the coming of Miracle Valley won't mean money for her; she doesn't know how to fix the kinds of cars those visitors will be driving. She knows that the people of Milagro won't be able to afford to live in their own homes anymore, that most of them will be worse off than before even if they get jobs as busboys or gardeners. She wants to do something for her hometown, and that's completely understandable. And while Amarante may be a total caricature, stereotype, or whatever you wish to call him, he also has probably the best sense of humour in the whole thing. For once, I have actually read the book. Oh, not recently, but I did. Several times, I think. It is true that the book makes its roots in Southwestern literature a little more apparent while simultaneously being earthier and more realistic. Several of the characters who are near-ciphers in the movie are fleshed out in the book; several of them have backstories that couldn't have made it onto the screen even if the running time wasn't already nearly two hours. In short, shockingly enough, the book is better. However, I do still like the movie. I will admit that, once I realized that Joe Mondragon was played by the guy who voiced Pesto the Goodfeather on [i]Animaniacs[/i], I was distracted pretty much whenever he was onscreen. Still, where I thought the movie succeeded most was in capturing the frustration a poor man can feel trapped by when it seems as though the rich are taking everything he has ever had or wanted. There are plenty of ways Joe Mondragon could be better off, but it's too late for most of them. Growing beans was all he could do to lash out.
Edith Nelson
½
Preachy but well acted. Redford at times is more concentrated on the message rather than allowing the film to put that forward naturally.
John Ballantine
Super Reviewer
½
Redford does a good job as director presenting a cinematic frame for the New Mexico impoverished countryside that is the setting for this story. But even at two-hours, I remaoined unsold as to the reason that we have this conflict in the first place. Chick Vennera plays Joe as a hapless family man who gets frustrated at his lack of opportunity at working for the new resort/golf development in his hometown. He turns on the water to a beanfield in his yard. Water that baned from local irrigation. At this point, entreprenuers become moustache-twirling bad guys. They fear political backlash of just arresting him and then try to find other ways to fuck with Joe's day to get him to back down. This in turn, rallies the local community against the development. Maybe I just don't have that same sense of "home"- but everyone ignores the value that the money will bring them and focuses on the increased taxes that will surely come. These are impoverished people anyway. They're not being exploited, maybe just displaced. And probably compensated for that displacement. In the end, the good guys are all sporting halos and the bad guys are comically evil. Even Walken is a caricature. It makes the story less believable. And I don't know what good the ghost brings to the proceedings at all.
Nik Browning
The Milagro Beanfield War Quotes
There are no approved quotes yet for this movie.
Discussion Forum
Discuss The Milagro Beanfield War on our Movie forum!