Milano Calibro 9 (Caliber 9)
(1972)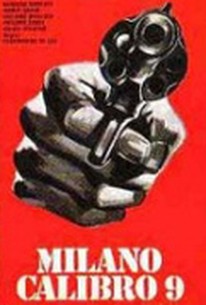 AUDIENCE SCORE
Critic Consensus: No consensus yet.
Movie Info
An ex-con claims that he wants to go straight after serving his sentence, but finds it impossible to emerge from the shadow of his former crimes in the first chapter of director Fernando di Leo's influential crime saga. Ugo Piazza may be a free man, but in the eyes of the mafia, the police, and his sadistic former associate Rocco, he will always be a criminal. When everyone who knows Ugo becomes convinced that he has stashed away $300,000 from a previous crime, the race is on to find the missing money at all costs. ~ Jason Buchanan, Rovi
Rating:
NR
Genre:
, ,
Directed By:
In Theaters:
Runtime:
Critic Reviews for Milano Calibro 9 (Caliber 9)
All Critics (2) | Fresh (2) | Rotten (0) | DVD (1)
The conclusion saves the feature, leaving the viewer with a lasting sting the rest of picture seems almost reluctant to offer.

... a hard, unfeeling brutality, a pitiless expediency and an understanding of who is expendable, who is untouchable, and what happens when those rules are broken...

Audience Reviews for Milano Calibro 9 (Caliber 9)
This was my first exposure to Fernando Di Leo's catalog, and I really dug it quite a bit for a film filled with actors that I had never heard of before, none of whom are all that 'matinee idol' looking, which is a nice change of pace for a film to not look like it's completely made in the Hollywood cookie cutter system. Italy in the '70s made some really enjoyable films of this sort and I'd say that this one is a great jumping on point for other novices like myself. Rental.
Bill Bryant
½
This hard hitting Poliziotteschi [70's Italian crime/mob exploitation] film by my new favorite director Fernando Di Leo delivers the goods. Mafioso Ugo PIazza gets out of jail, only to find himself tormented by his former employers who are convinced he stole $300,000 from them, prior to incarceration. The police, a friendly former Don, and his pal, a bad ass hitman named Chino are unable to protect good ol' Ugo from a psychotic shifty eyed thug named Rocco and his boss. This is the first part of Di Leo's mafia trilogy, and while it doesn't boast the incredible campiness of the infamous Il Boss, aka Wipeout - Milano Calibro 9 makes up for it with superb, tight direction, plausible and unexpected twists, genuine suspense, and an excellent supporting cast. All the main cast have prolific careers in Italian cinema, and this film hold it's own among the gangster film genre's highest achievements.
Chuck Nolan
½
After the popularity of the Spaghetti Western began to fall out of public favor the genre morphed into the Poliziotteschi crime thrillers. Taking inspiration from the gritty American films "The French Connection" and "Dirty Harry", Poliziotteschi films were basically Spaghetti Westerns modernized into the 70s. Horses became cars and revolvers became machine guns. Many of the spaghetti western predominate actors and filmmakers jumped into the new head on and one of these men was filmmaker Fernando Di Leo. Though he dabbled in the Spaghetti Western genre by writing a number of features he finally got to direct his dream project with "Caliber 9", the first of his "Milieu Trilogy" which would be followed by "The Italian Connection" and "The Boss". For my money his "Milieu Trilogy" is to the Poliziotteschi genre what Sergio Leone's "Man With No Name" trilogy was to the spaghetti western genre. It's a bold statement I know but most fans of the genre will agree that Fernando Di Leo directed the most respectable films the genre has to offer with "Caliber 9" being his crown achievement. Gastone Moschin portrays Ugo, a Mafia hitman recently released from prison. As soon as he leaves the prison he gets hassled by goons from his old boss about 300,000 lira that he supposedly stole. On the other side he gets hassled by the cops to get them information on his old boss. He hooks up with his old girlfriend (Barbara Bouchet) and somehow gets hired by his old boss. Can he find the people that took the money before he gets nailed by his boss or the cops biting at his heels? "Caliber 9" is not your average Poliziotteschi thriller as it is much more serious and character driven then most of the other popular films in the genre. The acting here is surprisingly excellent with not a weak actor in the bunch. The standouts for me are Mario Adorf as a skeezy hitman and Frank Wolff as an eccentric, loud police commissioner. I've seen Frank Wolff in dozens of these genre films and this is by far his best performance that I've witnessed. Fernando Di Leo's directing style is a lot more restrained and less flashy than his director brethren. His approach is much more standard with the focus of the film being more on the intriguing characters and plot. To be honest I do prefer my Italian films to be me more flashy in the directing department hence why I'm such a big fan of Enzo G. Castellari's and Umberto Lenzi's crime outings but there's no denying Fernando's characters and plot are much stronger and intriguing making for a much better, respectable film. I can't say I enjoyed "Caliber "9 more than other films in the genre like "Rome Armed to the Teeth" and "The Big Racket" because I didn't. I enjoyed those films for different reasons as they were more over-the-top with violence and action with dynamic directing with flashy camera angles. "Caliber 9" is more classy, elegant and respectable as it focuses more on characters, plot and all around good filmmaking. For that I give the film respect and that is why I say it is, arguably of course, the best film the genre has to offer... just not the most entertaining in my eyes.
Eric Reifschneider
Milano Calibro 9 (Caliber 9) Quotes
There are no approved quotes yet for this movie.