Mildred Pierce
(2011)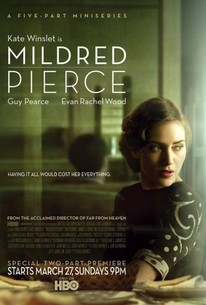 Movie Info
Academy Award-winner Kate Winslet stars in director Todd Haynes' five-part, made-for-HBO miniseries charting the hopes and heartaches of a single, middle class, Los Angeles mother as she fights to win her daughter's affections during the Great Depression. Guy Pearce, Evan Rachel Wood, James LeGros, Mare Winningham, Melissa Leo, and Hope Davis co-star in a film based on the 1941 novel by author James M. Cain. ~ Jason Buchanan, Rovi
Critic Reviews for Mildred Pierce
Audience Reviews for Mildred Pierce
½
Even at the extended length this is a mere patch on the classic Joan Crawford noir. Kate Winslet is a great actress, assuredly a more accomplished thespian than Crawford but the part fit Joan like a glove but by hewing so close to the novel this refocuses the drama in too many directions and loses the impact of any of them. Another problem is the part of Veda. The casting of two actresses minimizes the impact of the role for a start and the portrayals of both actresses while not bad can not possibly compete with the cancerous, psychopatic venality of Ann Blyth's pit viper in the original. It's bandbox pretty in the attention to detail of the sets but overall lacking a certain something...glamour? a proper consistent mood? to make it compelling that the Crawford film pulled off effortlessly.
½
Think I liked the movie better, but this tv series is pretty good. Though Kate is not Joan, she does a reasonable job here. That daughter is truly awful - another good argument for not having kids ever!!!
Nicki Marie
Super Reviewer
Top quality miniseries with great performances by all. If you can get over the outdated morality tale -- that women who try to make it in a man's world have to suffer mightily for the privilege -- this is a decent watch. I wasn't sure, however, if I was supposed to like Mildred, feel sorry for her or throw things at the screen for all the foolish choices she made...particularly concerning her selfish, vicious daughter Veda. This issue I struggled with, but, all in all I thought that this was well done.
Cynthia S.
Super Reviewer
Mildred Pierce Quotes
There are no approved quotes yet for this movie.