Militia
(2000)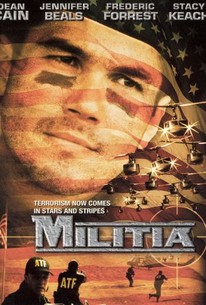 AUDIENCE SCORE
Critic Consensus: No consensus yet.
Movie Info
A government agent must ferret out his arch-enemies in this action thriller. The Brotherhood of Liberty, a right-wing militia group dedicated to the violent overthrow of the U.S. government, has stolen three special Air Force missiles whose warheads have been loaded with biological weapons powerful enough to kill the population of a large city in a matter of days. ATF agent Ethan Carter (Dean Cain) is assigned to go undercover as a Brotherhood of Liberty member to find out what became of the missiles and what the militia intends to do with them. Working with Wilson Fain (Frederic Forrest), a former BOL member who has been released from prison on the condition of co-operating with the ATF, Carter comes in contact with Brotherhood leader George Armstrong Montomery (Stacy Keach) and learns of the group's shocking plan to seize power. Meanwhile, ATF trainee Julia Sanders (Jennifer Beals) is assigned to watch out for Carter and keep him out of danger, though there's little she can do to save him after he's dug himself into the Brotherhood.
Rating:
R
Genre:
Directed By:
Written By:
In Theaters:
On DVD:
Runtime:
Studio:
Avalanche Entertainment
Audience Reviews for Militia
I caught some of this on HBO when the DVR show I was watching ended, and it just happened to be on. The first thing I saw was a ridiculous rip off of the Teledyne scene from Terminator 2. Must be the same production company that did both films, because all the exterior shots and even the climactic exploding building sequence were used. I was laughing at how bad they ripped the scene off. Even all the way up to the SWAT team going into the lobby and the SWAT truck being driven away from the building, except no T2 in pursuit. The real difference is this movie has cheesy acting and a poor plot (at least as far as I can tell from the 10 min. I watched it. This movie is CRAP.
Travis Flora
Militia Quotes
There are no approved quotes yet for this movie.