Il Mulino delle donne di pietra (Mill of the Stone Women)
(1960)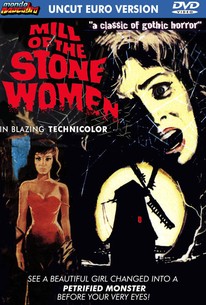 AUDIENCE SCORE
Critic Consensus: No consensus yet.
Movie Info
In this offbeat costume horror film set in 1912, Hans (Pierre Brice), a young art student, is sent to a remote Dutch village to collect information about the local windmill. The windmill is decorated with moving sculptures of women in various gruesome scenes of torture and death. Professor Wahl (Herbert Boehme), the curator of the windmill, also teaches art and sculpture. Among the professor's students, Hans meets Liselotte (Dany Carrel), his childhood friend who still loves him. He also gets acquainted with Wahl's beautiful daughter, Elfi (Scilla Gabel), who suffers from a rare blood disease and is not allowed to leave her house. Then Hans discovers the shocking secret behind the professor's attempts to keep his daughter alive.
Rating:
NR
Genre:
,
Directed By:
Written By:
In Theaters:
On DVD:
Runtime:
Audience Reviews for Il Mulino delle donne di pietra (Mill of the Stone Women)
Atmospheric French-Italian horror/thriller combining classic elements, such as a mad professor, his beautiful daughter, a lonely windmill, and a creepy semi-automated display of wax figures.
Paul Cardullo
A classic example of gothic Italian horror from the '60s. This was originally released in 1960, which would prove to be a seminal year for Italian horror. Mario Bava's directorial debut, Black Sunday, was also released this year. Mill Of The Stone Women was directed by Giorgio Ferroni, who would go on to direct one other horror film in 1972, Night Of The Devils. He was more well known for his "peplum" (Italian heroic fantasy movies) and westerns. The story concerns a young researcher named Hans who travels to a remote village (in 1890's era Holland) in search of a strange tourist attraction - The Carousel of Stone Women. The "carousel" is a large mechanical device featuring life-sized moving statues of famous and notorious female historical figures; and the whole attraction is housed within a windmill, owned and operated by an eccentric art professor named Gregorius Wahl. Wahl welcomes the young researcher, giving him a tour of the mill and allowing him access to diagrams of the machine, which his father had built. Wahl gives Hans five days to study the machine, after which time he must leave the mill. It turns out Wahl has a daughter, Elfy, who ends up becoming attached to Hans. Hans realizes Elfy may be mentally disturbed or perhaps something else altogether. I won't go into anymore of the plot for those who haven't seen it, but it's a movie worth seeking out, especially for those who like the atmospheric gothic films of Mario Bava, Riccardo Freda, and Antonio Margheriti. It was shot in Technicolor, and it makes good use of the process with some great visual set pieces. I haven't seen Ferroni's other horror film that I mentioned above, Night of the Devils, but apparently it's based on Russian writer Aleksei Tolstoy's novelette Sem'ya Vurdalaka, which also provided the basis for "The Wurdalak" segment of Mario Bava's Black Sabbath.
Hexenkult des Todes
½
Jesus, this sucked. The star and a half was for the vintage Eurpoean hotties, the half nipple I saw and the half-assed attempt to rip off Mario Bava. And whatever you do, don't forget the fire in the laboratory because that's never been done before!!! While watching the last half hour of Mill of the Stone Women I felt like I had my hand over an open flame. The only reason I didn't turn it off was because I've never walked out of or shut off a movie yet. And I'll be goddamned if Mill of the Stone Women is going to be the one to take me down...
Michael Gildea
Super Reviewer
Il Mulino delle donne di pietra (Mill of the Stone Women) Quotes
There are no approved quotes yet for this movie.