Millennium Countdown
(1998)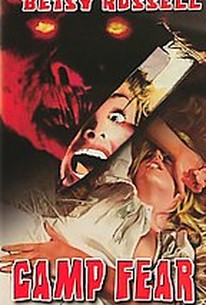 AUDIENCE SCORE
Critic Consensus: No consensus yet.
Movie Info
Some sorority sisters opt for camping in the woods with a handsome professor instead of a Palm Springs spring break. However, their orgy is interrupted when some Druids find them and decide they need to sacrifice them to prevent the apocalypse at the start of the new millennium. Co-starring Playboy playmate Peggy Sands.
Critic Reviews for Millennium Countdown
There are no critic reviews yet for Millennium Countdown. Keep checking Rotten Tomatoes for updates!
Audience Reviews for Millennium Countdown
½
[size=5][b]Camp Fear (AKA The Mellennium Countdown)[/b][/size] Directed by: Thomas A. Keith [img]http://ecx.images-amazon.com/images/I/51PM1RQ5QSL._SL500_AA240_.jpg[/img] I have come to the conclusion that I have no way of really explaining the different types of "bad" movies out there. There are some "bad" movies I actually really like and don't really think are bad, even with their low-rent goals, such as just about anything by Jack Hill, John Carpenter, etc. Then there are "bad" movies that I like because of their cheesy qualities, which are used in a fun/interesting way, such as "Just One of the Guys" or "Night of the Creeps". Then there are "so bad, they're good" movies, such as the "Slumber Party Massacre" movies. Then there are "so bad, they've gone past so bad it's good and back to bad again," such as, say, "Cheerleader Massacre" or "Friday the 13th Part 5". Of course, many don't fall clearly into one category or another, they don't clearly fall into one of these categories, but straddle the lines between them. Anyhow, in this case, this one falls between the "so bad, it's good" category and the "so bad, it's gone past so bad it's good and back to bad again." The first 20 minutes and the last 20 minutes leaning toward the first, the middle 40 leaning toward the second. This movie would have been better if it were made in the '80's where it would have been grittier and with more natural lighting. The 90's were a lowpoint for bottom feeding horror, although there are occasional gems. If you've seen Jim Wynorski's timeless crapsterpiece "Sorority House Massacre 2: Nighty Nightmare", then you've got a fair picture of where this movie is coming from. It also strattles a similar line, but overcomes it to fall fairly firmly into the first category becase of the greater amounts of nudity and the cool spooky house. Where this film fails is in the middle, as I said. It has great nudity and cheesy goodness to start out, and lots of hilarious villians and cheesy violence to finish it off. However, the middle part features NO nudity after a frightening amount of it early on, and features little violence. Instead, we actually spend time with the characters...which is pretty much never a good idea in a film such as this. Still, the great beginning, as well as the great end, which includes the line, I shit you not: "[i][b]It's reality time[/b], there's a crazed giant running around from another time...and I'm not sure, but I think it's got something to do with the Druids..."[/i] makes it at least passable on the "so bad, it's good" scale. Oh, and on the title: What a stupid title is "The Millennium Countdown!" Camp Fear is much better. Oh, and Yum-Yum? I swear this was unintentional: This movie started out slated as "Cheerleader Camp 2", but was later changed. I'm not kidding. [size=4][i]5.0[/i][/size] [size=5][b]Cruising[/b][/size] Directed by: William Freidkin [img]http://www.cinemaretro.com/uploads/cruisingdvd.jpg[/img] This controversial film (one of the first American films to really get deeply in to issues about homosexuality) about a cop who goes undercover in the gay S&M world to find a killer who's apparently killing his victims after he's tied them up for sex...is surprisingly exactly what it sounds like, no more or less. You can't really go completely wrong with Pacino and Friedkin in the sense that both are going to put up something interesting to watch. If they handled it right is another story entirely and I'm not really sure what I think. I think the biggest problem with this movie is that Pacino plays a straight man who's struggling to understand the world around him. That's interesting from an audience perspective, but it makes for some awfully awkward moments where I have trouble doubting that any person who was actually gay would believe that Pacino was gay. He's playing for the audience instead of playing for reality. I think it would have been more powerful if he had played a straight man playing a gay man very well, and let us see the confused straight man only occasionally. There is one scene where he actually is able to be really convincingly gay, the famous dance sequence, but the runup and end to it seem contrived as well. Anyhow, maybe I'm wrong about that. Not being gay, and not knowing any gay people who are part of the type of flamboyant gay sub-subculture depicted in the film, (least not so far as I can tell, obviously, I don't quiz them on their sex practices) I'm really not sure how well the movie captured the world. I found the characters interesting, the movie fairly tense and well thought out, and I was never bored. Given all of the good elements of this movie, I'm fairly ambivilant about it. I'm just not quite sure what to think. It's a quality film, but is it a good film? I'm just not sure. I'm being a little generous, and giving it a [size=4][i]7.0[/i][/size]
Cliff Smith
Millennium Countdown Quotes
There are no approved quotes yet for this movie.
Discussion Forum
Discuss Millennium Countdown on our Movie forum!