Milwaukee, Minnesota
(2003)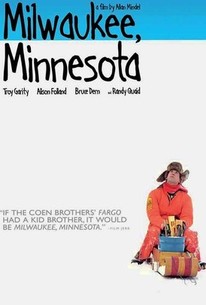 Milwaukee, Minnesota Photos
Movie Info
Allan Mindel's Milwaukee, Minnesota is about con men hoping to take advantage of a fishing champion. Albert (Troy Garity) is the best ice-fisherman in Wisconsin. He is not the sharpest tack in the box, making him susceptible to the less than ethical advances of nefarious Jerry (Randy Quaid), Stan (Hank Harris), and Tuey (Alison Folland), who all want in on his tournament winnings. Albert's life becomes even more difficult after his loving mother (Debra Monk) dies in an unexpected traffic incident. Milwaukee, Minnesota was screened at the 2003 Slamdance Film Festival.
Rating:
R (for language, sexual content, some violence and brief drug use.)
Genre:
, ,
Directed By:
Written By:
In Theaters:
On DVD:
Runtime:
Studio:
Critic Reviews for Milwaukee, Minnesota
Audience Reviews for Milwaukee, Minnesota
(** 1/2): [img]http://images.rottentomatoes.com/images/user/icons/icon13.gif[/img] Nothing really special here. A near-miss.
TTT C
A decent odd ball film, but I didn't like the yellow tinge the whole film had.
FanGirl Browncoat
Super Reviewer
[center][url="http://www.rottentomatoes.com/m/milwaukee_minnesota/dvd.php?select=2"][font=Palatino Linotype][size=4][color=lemonchiffon][b][img]http://images.rottentomatoes.com/images/movie/coverv/61/247761.jpg[/img][/b][/color][/size][/font][/url][/center] [center] [/center] [center][font=Palatino Linotype][size=4][color=lemonchiffon][b]In [/b][/color][/size][/font][url="http://www.imdb.com/title/tt0285727/"][font=Palatino Linotype][size=4][color=palegreen][b][i]Milwaukee, Minnesota[/i][/b][/color][/size][/font][/url][font=Palatino Linotype][size=4][color=lemonchiffon][b], [/b][/color][/size][/font][url="http://www.imdb.com/name/nm0004949/"][font=Palatino Linotype][size=4][color=palegreen][b]Troy Garity[/b][/color][/size][/font][/url][font=Palatino Linotype][size=4][color=lemonchiffon][b] puts on a wonderful performance as a cognitively impaired man who has lived under his mother's control for his whole life. He has a special gift though - he can "hear" fish under the ice and he wins loads of cash at ice fishing competitions. After his mother's death, heartless and greedy people attempt to get on his good side in order to get his money. [/b][/color][/size][/font][url="http://www.imdb.com/title/tt0285727/"][font=Palatino Linotype][size=4][color=palegreen][b][i]Milwaukee, Minnesota[/i][/b][/color][/size][/font][/url][font=Palatino Linotype][size=4][color=lemonchiffon][b] isn't a bad movie, but it could've been better. Some of the characters weren't convincing, but for the most part the acting was good. I enjoyed the movie for the most part, but would only recommend it for a one-time viewing when you can't find something better to watch.[/b][/color][/size][/font][/center] [center] [/center] [center][font=Palatino Linotype][size=4][color=lemonchiffon][b]Director: [/b][/color][/size][/font][url="http://www.imdb.com/name/nm0591051/"][font=Palatino Linotype][size=4][color=palegreen][b]Allan Mindel[/b][/color][/size][/font][/url][/center] [center][font=Palatino Linotype][size=4][color=lemonchiffon][b]Rated: R[/b][/color][/size][/font][/center] [center][font=Palatino Linotype][size=4][color=lemonchiffon][b]*1 Mindel Film Viewed[/b][/color][/size][/font][/center] [center][font=Palatino Linotype][size=4][color=lemonchiffon][b]:fresh: :fresh:[/b][/color][/size][/font] [/center]
Jon K