Mimesis
(2011)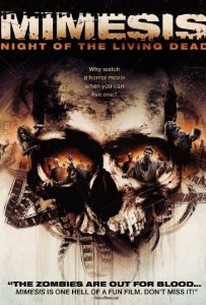 AUDIENCE SCORE
Critic Consensus: No consensus yet.
Movie Info
Why watch a horror film when you can live one? For over a century, fans have had their blood curdled and spins chilled by the vicarious thrills of horror films. Whether populated by ghouls, slashers, zombies or vampires, fans flocked to have their pulse quickened and exercise their scream-generating skills. But one thing remained constant: eventually the story ended, because it was only a movie. What if it didn't have to end? What if the next level of horror was to experience a horror film from the inside? *Mimesis, as defined by Merriam Webster Dictionary: "imitation, mimicry." In the film, a group of horror fans find themselves unwilling participants in a living nightmare that pays homage to a classic horror film. Seven complete strangers whose only common link is a love for classic era horror films are invited to attend an exclusive "horror fan" party at a remote farm. But as the sun sets, these strangers soon find themselves within a real life version of the 1968 George Romero cult horror classic Night of the Living Dead!
Critic Reviews for Mimesis
All Critics (3) | Fresh (2) | Rotten (1)
Despite the passing moments of creeps, it's a poorly executed and forgettable horror entry.

In the end we have a movie with an excellent premise that's executed in the most standard of ways.
Mimesis is a horror fan's dream concept, recalling a classic film with superior cult like worship, but struggles at times to deliver consistent grade-A material.

Audience Reviews for Mimesis
Surprisingly good in my opinion. Not that it was anything great but I was expecting it to be mediocre at best and probably awful. The concept is intriguing if pretty unbelievable. Most of the acting is just okay but none is really bad. Sid Haig is amusing in a cameo role. The special effects are unimpressive and likely to greatly disappoint blood and gore fans. All-in-all an entertaining if not very memorable movie.
David Duncan
½
While this film had great ideas and thought-provoking subliminal messages, pathetic execution destroyed all potential and made this 95 minutes of hoping the end were near.
Daniel Varney
½
Mimesis features an excellent premise: a group of people take hostages, dress up as zombies, and enact a recreation of Night of the Living Dead in which they actually kill their victims. But despite some solid moments, the film never quite reaches its potential. Still, an entertaining and somewhat original horror film that deviates from the mainstream zombie film.
Al Miller
Mimesis Quotes
There are no approved quotes yet for this movie.
Discussion Forum
Discuss Mimesis on our Movie forum!