Mind Game
(2004)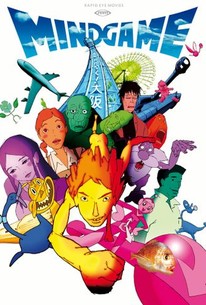 Movie Info
Cult classic Mind Game is an explosion of unconstrained expression - gloriously colorful mages ricochet in rapid fire associations, like Masaaki Yuasa's brain splattered onto the screen in all its goopy glory. Audiences will begin to grasp what they are in for early on as loser Nishi, too wimpy to try to save his childhood sweetheart from gangsters, is shot in the butt by a soccer-playing psychopath, projecting Nishi into the afterlife. In this limbo, God - shown as a series of rapidly changing characters - tells him to walk toward the light. But Nishi runs like hell in the other direction and returns to Earth a changed man, driven to live each moment to the fullest.
Critic Reviews for Mind Game
Audience Reviews for Mind Game
This is one of those films that's more of a visual feast than it is a film that focuses on a variety of different surreal visuals and animation styles to accompany them as opposed to telling a focused story. Essentially, the story, if you can even call it that, focuses on a graphic artist saving the woman his loves and his sister from yakuza loan sharks. That's the film explained in simple terms. But the film features the protagonist being killed by being shot through the asshole, him going to heaven and then fighting his way back to life before he was murdered in order to prevent his own death. While escaping from the yakuza during a car chase, the car he's driving with the sisters ends up driving off a bridge and straight into the mouth of a giant whale. They, of course, survive this encounter and come across an old man that has been surviving inside the whale for 30 years now. Our protagonists end up befriending the old man and they find various ways to entertain themselves while trying to come up with ways to escape the whale. Sounds pretty nuts, right? That's because it is. It pretty much runs the gamut of wildly imaginative and clever usage of visual storytelling. Let's be honest here, for this to make sense, you'd probably have to ingest a whole lot of acid. Because the film is certainly out there. I got no idea where the film was going or what the point of it was, and I'm sure that was done by design. I'm sure there's someone out there that would say that, if looked on a deeper level, it actually makes sense, but I don't think the film does a lot to invite deeper inspection. It's just weird for the sake of it, honestly. Not that there's anything wrong with, mind you, because I really enjoyed the visual insanity taking place here. There's some funny bits in the film. But, honestly, and this is just me, this is pretty much a one-note film in that it doesn't do anything but be weird and that might work for some people, but it doesn't work for me. I mean it works to a certain point. I just think the lack of a focused narrative really held it back and the ending, seemingly, went on forever and featured random flashbacks to random points of the lives of the characters in the film. It went on forever and it was shown completely out of order. Not that I have much problem with the latter, Pulp Fiction is not in chronological order and that was an amazing film. I have more of a problem with the former, these flashbacks going on way too long, to the point that they show the film's title leading twice. Obviously assuming that the film is over when they first show they title, they actually go back into another lengthy sequence with even more flashbacks. It honestly really brought the film down and it felt like an exercise in pretension. Like they did it just because they could. It makes sense with the film's surreal visual style and structure, but it was needlessly long. That's just me. And it's just a movie that takes a while before you can get into. It's not that the weirdness is too much to take, it's just that the film isn't really that interesting or entertaining until Nishi is murdered the first time before coming back and fixing his mistake. The film is bookended by segments that aren't as interesting or as intriguing as anything that's done inside of the whale. That's just me. The animation is, likely, meant to distract you from these weaker aspects of the film, but it is what it is. Don't get me wrong, the animation is excellent, even for a film that's 11 years old, it still looks vibrant today. But deep down, even though I gave the film 3 stars, this isn't actually what I would call a good movie. I found myself entertained by the film, but it lacks structure and focus, so I can't say it's a good film. I mean I'd recommend it because it is a pretty wild ride, but it's not a good film when you inspect it deep down.
Jesse Ortega
Super Reviewer
Breathtaking and extraordinary. The film is all kinds of crazy, but it doesn't feel pointless; the characters are faced with some rather unrealistic situations, but they themselves always remain very human and act accordingly; there are scenes that look confusing, but they really aren't. Everything is a lot of fun and the animation is fantastic.
Quinto Wallight
Super Reviewer
½
Fun & inventive animation, Gets a bit too random at times but overall a refreshing & impressive experience
Mind Game Quotes
There are no approved quotes yet for this movie.