Mind the Gap
(2005)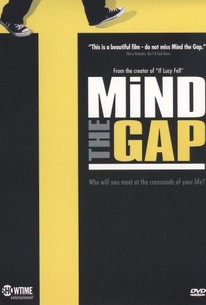 Mind the Gap Videos
Mind the Gap Photos
Movie Info
A handful of New Yorkers with little in common cross one another's paths as they try to sort out their romantic and emotional troubles in this comedy drama from writer and director Eric Schaeffer. Sam Blue (Eric Schaeffer) is a single father who is raising a ten-year-old son, Rocky (Christopher Kovaleski), on his own. Rocky was conceived using an egg Sam purchased on the Internet; after being left at the altar by his fiancée, Sam isn't sure he can stand the pain of another romance, though Rocky wishes he could have a mom. Herb Schweitzer (Alan King) is an elderly man with a sour personality who has pledged to honor the memory of a deceased friend by walking from his apartment to a beach in Manhattan. However, the trip will cover many miles, and these days Herb can barely shuffle to the end of the block. Jody Buller (Jill Sobule) is an eccentric street musician who was given a pacemaker for her weak heart as a child. Jody is convinced this means a broken heart would be fatal, despite her doctor's efforts to convince her otherwise. Malissa Zubach (Elizabeth Reaser) is a young woman who dreams of traveling to other lands, but is stuck in a trailer home caring for her dying mother. Hoping to get a sense of the outside world, Malissa persuades pen pals across the globe to record audio tapes in public places so she can hear the places she wants to see. And John McCabe (Charles Parnell) is a man still struggling to come to terms with the collapse of his marriage, brought on by his own infidelity. Mind the Gap received its world premiere at the 2003 South by Southwest Film Festival, where it received the Special Jury Award for Narrative Feature.
Rating:
R
Genre:
, ,
Directed By:
Written By:
In Theaters:
On DVD:
Runtime:
Studio:
Showtime Networks Inc.
Cast
Critic Reviews for Mind the Gap
Audience Reviews for Mind the Gap
Interesting movie I happen to catch by chance. Good movie concerning a small group of seemingly unrelated people and how unique, exciting, dreadful and different life can be.
Matt Przydrozny
½
I really love movies that share stories about people and how crazy, wonderful, and insufferable life can be. This is one of the best of those.
Huong Nguyen
Hrm. This seems to be another of the "new" genre of movies that start out with various individuals/subplots that end up connected in the end in some way. Probably the most notable movie of this type is Crash, which I personally never could finish. Just couldn't get into it. I hear it was a "great movie" in the end, but to me it was too much work getting to even the midpoint to continue thru to the end. This movie is in a similar vein, but not so depressing in the beginning. It tells the tales of several individuals with no connection to one another. There is the artsy girl who seems to have a totally positive outlook in life despite a dark secret. The father-son combo with some strange eccentricities coming about from the thought that "if the little dreams don't happen, how can the big ones?" The bitter, estranged father who falls into depression due to the loss of his son through divorce and distance. The young Jersey-girl singer/songwriter with a bad heart and a mediocre life. A mean-old-man on a journey to the end of Manhattan to fulfill a promise to an old friend. Do these plots have anything to do with one another? No. But there is redeeming value in the end. I did have to force myself to complete the film. There was a long lull around the middle of the movie which was just very very slow paced and gives you little hope that there was going to be redeeming value to the film. In fact, when I picked it up at Blockbuster, I had forgotten that I'd tried to watch the movie in the past and never finished it at the time. Anyway, in the end, all the main characters end up in NYC and some meet each other in pairs. With each pairing, there is a significant impact on each life. And the story ends. To be honest, I'm not entirely fond of this genre of films (does it have a name?) The best of this type I've seen is probably Love Actually. The nice thing about that was the intertwining of the stories. It just seemed that there was a connection between the stories throughout the film and there was also a stronger unity of theme. In that sense, Mind the Gap was a disappointment, but at least the ending brought it together enough to get a "6"
Jason Cox
Discussion Forum
Discuss Mind the Gap on our Movie forum!
News & Features