Minions
(2015)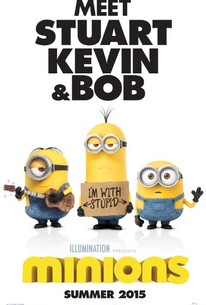 TOMATOMETER
AUDIENCE SCORE
Critic Consensus: The Minions' brightly colored brand of gibberish-fueled insanity stretches to feature length in their self-titled Despicable Me spinoff, with uneven but often hilarious results.
Movie Info
The story of Universal Pictures and Illumination Entertainment's Minions begins at the dawn of time. Starting as single-celled yellow organisms, Minions evolve through the ages, perpetually serving the most despicable of masters. Continuously unsuccessful at keeping these masters-from T. rex to Napoleon-the Minions find themselves without someone to serve and fall into a deep depression. But one Minion named Kevin has a plan, and he-alongside teenage rebel Stuart and lovable little Bob-ventures out into the world to find a new evil boss for his brethren to follow. The trio embarks upon a thrilling journey that ultimately leads them to their next potential master, Scarlet Overkill (Academy Award (R) winner Sandra Bullock), the world's first-ever female super-villain. They travel from frigid Antarctica to 1960s New York City, ending in mod London, where they must face their biggest challenge to date: saving all of Minionkind...from annihilation. (c) Universal
News & Interviews for Minions
Critic Reviews for Minions
Audience Reviews for Minions
½
On the surface Minions is silly fun, but the narrative highlights a lot of delightful in-jokes that should entice hip viewers. Kids won't get them and frankly many adults won't get either. The floor in Scarlet Overkill's abode resembles the carpet in The Shining. Stuart greets the fire hydrant he fancies with "Papagena" which sounds like nonsense unless you realize it's a character in The Magic Flute. Kevin whistles a tune from Mozart's opera later. Scarlet Overkill's bedtime story about a big bad wolf is underscored by Prokofiev's Peter and the Wolf. But it's not all classical music. Baby boomers should dig the 60s fan service. Minions pop up out of a manhole cover just as the Beatles are crossing the street à la Abbey Road. The minions sing "Revolution", the "Theme from the Monkees", and "Hair". They watch TV while flipping past The Saint, Bewitched & The Dating Game. Alas there instances where toilet humor shows up like an unwelcome house guest. In those brief moments, taste takes a regrettable detour. However, more often than not, Minions is a feast for savvy pop culture aesthetes and their children as well. fastfilmreviews.com
Mark Hobin
Super Reviewer
Perhaps I have to see 'Despicable Me', but as my introduction to minions, I didn't think much of this movie. I found I just didn't care much what happens to minions.
½
Did we really need this? seriously, this doesn't actually feel like a genuine movie, but more like an unnecessary accessory that has been forced out purely to capitalise on merchandise...oh I see. Yes that's right folks, the tiny, annoying, little bug things called minions are back in their very own prequel/spin-off which, as far as I'm concerned, was made purely to sell plush minion toys. I mean honestly, did these characters [b]really[/b] need a bloody prequel? was their backstory that important? did we [b]really[/b] need to see how they all became minions of Gru? Oh shit, yeah I keep forgetting about the shameless cynical money aspect in all this. So apparently the minions have been around since the dawn of the Earth, they were around before man and the dinosaurs, emerging from the sea with the first tetrapods (the wonder that is Google). From the very first moment they did this they have all craved a boss, a leader to follow and serve...for some reason. No explanation is ever given for this, they just do this, and for some reason this leader has to be evil, God knows why, but there you go. This also leads me to question other simple things about these little yellow pill shaped creatures. Firstly, are there any female minions? I don't think we ever see any, so how do they breed? do they have both sexual bits? now I think of it...do they even die?? Apparently they have all survived since the dawn of time, yet I don't think any of them ever die or age, its the same characters the whole way through, anyone else think this is odd. At the start of the movie we get to see the various people/creatures the minions have served throughout time. Now I did quite like this small sequence of events as it was quirky and amusing to see the different scenarios and time periods. Had this simply been a quick animated short it would have been pretty sweet, these spin-off things tend to work better in short bursts and this sequence proves that. But even this decent set of ideas was marred in stupidity, like why would they follow a T-Rex (for all intense and purposes...an animal) that would or should eat them and wouldn't understand or need henchmen. Its the same as them all serving a wildcat, makes no real sense, and why would Dracula need so many minions? yeah OK I'm delving too deeply into this but it just felt dumb, stretching for gags. Plus the fact they manage to accidentally kill off all their leaders, you'd think they quit the whole notion. As for the rest of the plot, it all just felt so forced, the same old spiel yet again. The minions end up travelling around to various places (thusly appealing to as many as possible) eventually ending up in London, cue a shittonne of cliched visual gags involving British culture that we've all seen before and simply isn't funny anymore. You all know what I mean of course, tea, snobbery, suits, bowler hats, accents and the Queen...who is part of the plot. Oh yes! the plot, forgot about that, well its all about the minions simply trying to find a leader to serve, and they do in the form of the bland Sandra Bullock voicing Scarlet Overkill, yet another predictably unoriginal strong female character that are obligatory these days. Overkill orders them to steal the Crown jewels for her but the minions end up messing it up with one of them pulling the mythical Sword out of the Stone?? and becoming King of England. OK what's wrong with that picture!! the time period is the 60's, where exactly does the Sword in the Stone fit in? Anyway Overkill wants her jewels and to be Queen of England, so the minions voluntarily do this for her, she tricks them and locks them up, the minions then escape in order to apologise to her hoping everything will be OK. Wut??! yeah this plot isn't too thin and padded out. Gotta ask, leaning back towards things not making any sense, how come people aren't freaked out by minions? No one seems to bat an eyelid with them, yet they are clearly a form of life that no human knows about or has ever really come into contact with before (in the original tow movies they have clearly been established). So no one seems terrified or curious about these bizarre alien-like creatures, the fact some have one eye, they're yellow, they speak their own language, their body shape, where they came from etc...In fact it appears monsters and ghouls are a regular part of everyday life in this jumbled little universe because the Creature from the Black Lagoon is apparently alive and well (him and Dracula). Next to that we also have some, quite frankly, inane sequences which show a part of India close to Australia? (connected by a bridge?), and the moon landings were indeed fake in this world too (what are they hinting at?). This movie did actually make like...a gazillion squillion Dollars at the box office so, I guess we'll be getting more (sigh!), but what amazes me is how horrendously obvious this 'movie'/merchandise machine is. Just because some top brass got a whiff that the minion characters were popular they grind out a pointless cash grab movie about them. That's like making a prequel/spin-off about the seven dwarfs from Snow White and how they lived before getting tangled up with her (oh shit I hope no one reads that...but if they do I want royalties!). Many movies have fun henchmen/sidekick characters, that doesn't mean you need to go make a bloody prequel about where they came from and how they met with the original films protagonist, sheesh! This movie has a few highlights yes, a few chuckle moments yes, but overall its a complete mess with nothing making any remote sense, even for an animated fantasy world (kids will now think India sits right next door to Australia...connected by a rope bridge).
Phil Hubbs
Super Reviewer
Minions Quotes
| | |
| --- | --- |
| Queen Elizabeth II: | Gentlemen do not steal lady's crowns!!!! |
| Queen Elizabeth II: | Gentlemen do not steal lady's crowns! |
| | |
| --- | --- |
| Scarlett Overkill: | Respect! Power! |
| Stuart the Minion: | Banana! |
| Scarlett Overkill: | . . .Banana! |
| | |
| --- | --- |
| Professor Flux / Tower Guard: | You came for the crown, did you? Well you'll have to go through me! |
Discussion Forum
Discuss Minions on our Movie forum!