Ministry of Fear
(1944)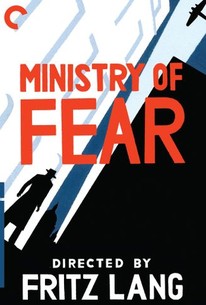 Movie Info
An innocent man is drawn into a web of espionage when he unwittingly comes into possession of a crucial piece of microfilm in this shadowy, ominous film noir. Fritz Lang's adaptation of Graham Greene's novel is filled with unusual touches, beginning with the fact that protagonist Stephen Neale (Ray Milland) has just been released from a mental asylum. To celebrate his return to the real world, he visits a local carnival, only to accidentally receive a "prize" meant for a Nazi agent. When he discovers the error, he turns for help to a detective, whose investigations only make the matter more complicated. Neale soon winds up on the run from both the Nazis and the police, who mistakenly believe him guilty of murder. Lang's famous expressionistic style is somewhat muted here, but Henry Sharp's crisp black-and-white cinematography sets a suitably unsettling mood, and the twists and double-crosses of Greene's story unfold at an appropriately quick pace. While it does not reach the same level of timeless classic as Carol Reed's adaptation of Greene's The Third Man four years later, Ministry of Fear stands as a well-made, thoroughly gripping and intelligent example of film noir.
Critic Reviews for Ministry of Fear
Audience Reviews for Ministry of Fear
While benefiting from Fritz Lang's Sturm und Drang-style, Ministry of Fear suffers from a predictable climax and a mediocre Marjorie Reynolds.
Brian Krause-Rivera
.... Carl Esmond and Marjorie Reynolds as siblings; Hilfe meand hekp in German. One of Milland's best along with Lost Weekend and The Big Clock. Alan, Napier, Hillary Brooke. Dan Duryea as the heavy.
John Tandlich
I don't really care that the story is ridiculous, Lang directed the film beautifully (Is there any other director who used contrasting shadow and light so well?) and I like that its a WWII propaganda film, that doesn't really feel like a propaganda film . . . probably because the "heroes" and "villains" are less clearly defined than most stuff from that era.
Alec Barniskis
Super Reviewer
Ministry of Fear Quotes
There are no approved quotes yet for this movie.
Discussion Forum
Discuss Ministry of Fear on our Movie forum!