Minyeo-neun goerowo (200 Pounds Beauty)
(2006)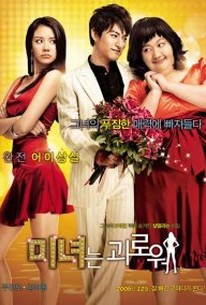 AUDIENCE SCORE
Critic Consensus: No consensus yet.
Movie Info
Korea's all-time comedy leader at the box office and winner of Best Film, Director, and Actress at the Grand Bell Awards (Korea's Oscar equivalent), is the story of a singer that resorts to drastic "head-to-toe" plastic surgery in order to fulfill her dreams of pop stardom. In Korean with English subtitles.
Critic Reviews for Minyeo-neun goerowo (200 Pounds Beauty)
There are no critic reviews yet for Minyeo-neun goerowo (200 Pounds Beauty). Keep checking Rotten Tomatoes for updates!
Audience Reviews for Minyeo-neun goerowo (200 Pounds Beauty)
This film falls into the trappings of almost every South Korean comedy I've seen lately. It tries to be funny and silly, where this film is at its best, and then becomes melodrama by the climax, and then it's back to the comedy before the credits roll. This is the formula and it simply hasn't changed one bit in the time I've been watching these films. This really is a showcase for Ah-jung Kim's tears. Boy does she cry a lot in this goddamn film. She can be very charming and lovely, but her constant crying, sometimes for no reason whatsoever, got to be too much for me. It tries too hard. It goes without saying that the film is really shallow. The film compaletely harps on the fact that Ah-jung's character used to be ugly and fat and at no point does the film even try to make up for that. The message this film sends is that fat people are ugly and not worth your time. What the fuck??? Imagine if instead of being fat, Ah-jung's character was a lesbian and the film played out exactly the same way as it does now. There's no acceptable way for a film to, imply, that fat people are ugly and therefore not worth the time. There's a good idea here with this character, due to her confidence issue, trying to do something to boost herself. And I think the film could've done a lot with that and the reasons and the complexities of why someone chooses to do this. But, of course, a romantic comedy has to be easy to follow and easy to digest. The film chooses to go the predictable route by having the character become more vain as the film goes along with her distancing herself from her friend AND her dad. It seems I've said this a billion times by now, but the melodrama is absolutely forced in this film. Why would Ah-jung's character choose to pretend to be a different person after losing all the weight and the plastic surgery? It seems unreasonable to do this when she did especially to make others notice her. Why would you then hide who you are? It makes no sense and all it does is ensure the big dramatic moment at the end of the film when, during her first concert, she breaks down and confesses who she is. This scene is terrible and utterly weepy. I don't think the combined weight of every person on this earth could match the weight of the tears that are shed in these 'comedies'. So yea I thought the ending was terribly and horribly weepy. The film, up until that point, was decent and of course they had to fuck that up with the dramatic aspects. As long as these films keep making money then they'll keep getting made. Perhaps it's my fault. I keep hoping for these films to get better and I refuse to accept that this is all a formula and I should just give up. Anyway, not a very good film. At least I didn't enjoy it that much, I'm sure a lot of people will like it much more than I did.
Jesse Ortega
Super Reviewer
200 Pounds Beauty is a great movie. This movie is the star vehicle for new actress Ah-jung Kim. She gives a great performance and fits the role perfectly. Even though the plot is simplistic, it is very witty and provides consistent comedy. The movie does not take itself too seriously like a lot of Korean movies. Overall, a feel-good movie that is a definite must watch
Steven Vincent Gee
Super Reviewer
Why can't they write a real happy ending for a big girl? Obviously being skinny and fake is preferable...
Minyeo-neun goerowo (200 Pounds Beauty) Quotes
There are no approved quotes yet for this movie.