Mio Fratello è Figlio Unico (My Brother Is an Only Child)
(2007)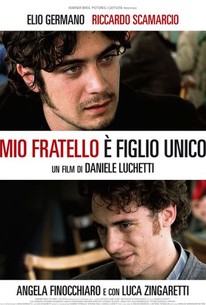 TOMATOMETER
AUDIENCE SCORE
Critic Consensus: Luchetti takes advantage of the storyline's historical context without sacrificing his cast's fine performances or the script's light wit.
Mio Fratello è Figlio Unico (My Brother Is an Only Child) Photos
Movie Info
Growing up in small-town Italy during the '60s and '70s, brothers Accio (Elio Germano) and Manrico (Riccardo Scamarcio) embody and celebrate opposing political stances, but share an impassioned love of the same woman that threatens to drive them to blows. Director Daniele Luchetti's political comedy Mio Fratello È Figlio Unico (aka My Brother Is an Only Child, 2007) observes the brothers over the course of 15 years, against the ever-shifting backdrop of tumultuous Italian sociopolitical history. During that time span, the siblings' loyalties will fluctuate; they will endure arguments and quarrels, and find themselves separated by the ravages of time and circumstance and reunited magnetically by the wisdom of age. In time, they will come to a firmer and clearer understanding of not only the differences but the similarities that they harbor.
Critic Reviews for Mio Fratello è Figlio Unico (My Brother Is an Only Child)
Audience Reviews for Mio Fratello è Figlio Unico (My Brother Is an Only Child)
Another fabulous film out of Italy that is a picture of the politics of the era when extreme points of view were advocated by those who would seek to deal with plodding governments. In this case, it is personal with different members of the family gravitating to the left and right. It sparkles.
John Ballantine
Super Reviewer
In this movie everything seems right... it was well directed by Daniele Luchetti, perfectly written by him and Sandro Petraglia with Stefano Rulli and all roles were superbly played by Elio Germano (Accio), Riccardo Scamarcio (Manrico), Diane Fleri (Francesca), Alba Rohrwacher (Violetta), Angela Finocchiaro (Mother) and Massimo Popolizio (Father). Some of the best social dramas I've seen in my life were Italian made, and this one should be in the top 10 - it has it all: class struggle, ideological warfare, political contention, you name it - and most of it is expressed through sibling rivalry. The director sets the stage for a morality play or maybe some kind of a family melodrama, but he manages to show us on that stage materialized violence or grief... and all seems natural, done in breezy and raffish maner! Explosions of the sibling rivalry between the brothers are regular while they make their choices in life. Did someone said the life is like a rollercoaster? A film with a message... a film which will make you think! Enjoy watching it!
½
[font=Century Gothic]"There's nothing in the middle of road but yellow lines and dead armadillos." - Jim Hightower[/font] [font=Century Gothic][/font] [font=Century Gothic][/font] [font=Century Gothic]"My Brother Is An Only Child" starts in 1962 in Italy where Accio Benassi(Elio Germano) is in a seminary studying to be a priest. He does well until he discovers masturbation and quits, reasoning that priests should be pure.(Good luck with that, by the way.) Returning home, he learns that his parents(Angela Finocchiaro & Massimo Popolizio) will not let him study Latin, instead forcing him to go to technical school, so he can learn something practical. To make matters worse, his sister Violetta(Alba Rohrwacher) is allowed to pursue the cello. Temporarily running away solves nothing but joining up with the Fascists through Mario(Luca Zingaretti) at least gives him a sense of purpose. It also gives him a point of argument with his older brother Manrico(Riccardo Scamarcio) and his cute girlfriend Francesca(Diane Fleri), both Communists.[/font] [font=Century Gothic][/font] [font=Century Gothic]"My Brother Is An Only Child" is an engaging examination of radical politics in Italy in the 1960's, minus the cliches, musical cues and references to historical events which takes the movie down to a personal level. Throughout, the Communists and Fascists appear to resemble little more than rival street gangs(you could make a pretty good Romeo and Juliet story out of this). They are fighting for the present as the Communists represent an idealized future while the Fascists represent a nonexistent past. Regardless, the movie makes a potent argument against violence waged for any cause.[/font]
Mio Fratello è Figlio Unico (My Brother Is an Only Child) Quotes
There are no approved quotes yet for this movie.