Miss Muerte (Miss Death and Dr. Z in the Grip of the Maniac) (The Diabolical Dr. Z)
(1967)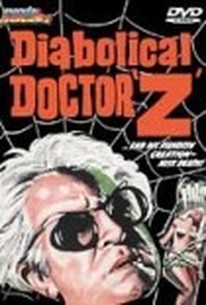 AUDIENCE SCORE
Critic Consensus: No consensus yet.
Movie Info
This dark, surrealistic horror film from cult filmmaker Jesus Franco is perhaps best-remembered for its images of the lethal Miss Muerte (Estella Blain) luring victims with razor-sharp fingernails while clad in a skull-mask and a revealing bodysuit. The real star of the film is Mabel Karr, portraying Irma von Zimmer, daughter of a mad scientist whose public humiliation led to his fatal heart attack. Vowing revenge, Irma uses her father's mind-control techniques to possess Miss Muerte, a nightclub performer. The hypnotized dancer murders the doctors whom Irma blames for her father's death, slicing their throats with her poisoned nails, until police Inspector Tanner (Franco) and Miss Muerte's boyfriend (Fernando Montes) track her down. One of Franco's most entertaining films, Miss Muerte is a great improvement over the similar El Secreto del Dr. Orloff, released the previous year. ~ Robert Firsching, Rovi
Rating:
NR
Genre:
, ,
Directed By:
Written By:
In Theaters:
On DVD:
Runtime:
Critic Reviews for Miss Muerte (Miss Death and Dr. Z in the Grip of the Maniac) (The Diabolical Dr. Z)
There are no critic reviews yet for Miss Muerte (Miss Death and Dr. Z in the Grip of the Maniac) (The Diabolical Dr. Z). Keep checking Rotten Tomatoes for updates!
Audience Reviews for Miss Muerte (Miss Death and Dr. Z in the Grip of the Maniac) (The Diabolical Dr. Z)
At least the title of the English version is good, though they left a few letters off the end. I can fix it: "The Diabolical Doctor Zzzzzzzzzzzzzzzzzzz." A mystery film in which there is no mystery for the viewer to solve is intrinsically dull. Likewise for a horror film in which nothing horrifying happens. "Doctor Zzzzzzzzz" fails on both counts. The Doctor himself only appears in the first few minutes of the film. He gets laughed at at a scientific conference and dies of a heart attack on the spot. For the rest of the flick, we have his daughter seeking vengeance. Early on, her face gets burnt when she sets fire to a car in an attempt to fake her own death, but she does some home plastic surgery to fix things. Then she starts using daddy's mind control machine (a plexiglass table with robotic arms attached to a machine that goes "ping") to control people's minds and make them do her bidding. The story after that revolves around a performance artist/burlesque dancer (Miss Muerte) who has long fingernails that the doctor's daughter tips with poison. Most of the rest of this sleep-inducing bit of celluloid flotsam consists of the dancer scratching scientists while being pursued by two stereotypical British detectives. Let the napping begin! The acting is second-rate at best. We always know exactly who is behind the killings and their motives. Everything is as dull as can be. "Doctor Zzzzz" may have been loosely based on Poe's "Murders in the Rue Morgue," except the ape from that story has been replaced by Estella Blain here. The ape probably could have been more convincing in the role. Jesus "Jess" Franco went on to do some surreally strange exploitation flicks later in his career. They were by no means good movies, but at least they were entertaining in their oddball imagery and even freakier dialogue. None of that is present in "The Diabolical Doctor Z." The most diabolical thing about this one is its amazing ability to trigger something close to narcolepsy in its victims. Errr, viewers. No, no... victims.
Brian Seitzman
Jesus Franco's The Diabolical Dr. Z has got to be one of the most unique and unusual revenge flicks I have ever seen. The movie is essentially a b-grade horror flick, but it takes itself seriously in a fashion that kind of works with the film. The movie is strange at times, but at least it didn't get campy. And I feel Franco has created a rather enjoyable little horror gem with this film. The movie is about a scientist, Dr. Zimmer (Antonio Jimenez Escribano), who has created a machine that he feels can rehabilitate criminals by tapping into their brain and reprogramming them into slaves. He is laughed at and mocked at a scientist gathering, and suffers a heart attack because of the embarrassment. So his daughter Irma (Mabel Karr) sets out to murder the men responsible for her father's death, by using the very machine they said didn't work. It was a lot of fun watching Irma on her pathway to vengeance. The character was very ruthless with her plans, and was able to commit some really horrible acts. She would even go as far as killing random people she didn't even know, if it meant she could get one step closer to her targets. And some of the steps she took to get revenge were simply bizarre, but enjoyable to watch. Like I said, the movie can get a little strange. And nothing in the film gets as strange as the exotic dancer, Nadja (Estella Blain), who Irma abducts and turns into an obedient killer. Her methods are a bit odd, she seduces men and then scratches them with poison tipped finger nails. But man, she was a great addition to this story. The Diabolical Dr. Z is a nicely filmed movie, especially in the beautiful black and white that it is done in. And the music adds a really nice touch, and adds another level of creepy atmosphere to this film. It isn't perfect, but there is a lot to enjoy with this film. For horror fans of older flicks, this one is worth checking out.
Bryan Gomez
½
Cool early film of Jess Franco that follows in the tradition of his Orloff films, and even mentions Dr. Orloff at one point in the film. In this film, one can already seen Franco developing his typical interests: eroticism and surrealism. Well-crafted, somewhat silly, and loads of fun, Dr. Z is classic Franco.
Al Miller
Miss Muerte (Miss Death and Dr. Z in the Grip of the Maniac) (The Diabolical Dr. Z) Quotes
There are no approved quotes yet for this movie.