Missing in America
(2005)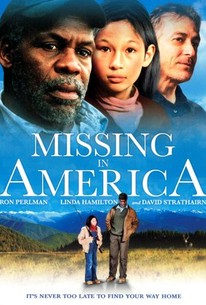 AUDIENCE SCORE
Critic Consensus: No consensus yet.
Missing in America Videos
Missing in America Photos
Movie Info
A reclusive Vietnam veteran finds his quiet life thrown into chaos upon receiving an unexpected visitor in this tale of friendship and healing starring Danny Glover, Linda Hamilton, and Ron Perlman. Though 35 years have passed since Jake (Glover) returned to American soil after fighting in the Vietnam war, the horrors of the battlefield still linger vividly in his mind. Instead of returning to the hustle and bustle of the city, Jake has chosen to seek solitude in the serene forests of the Pacific Northwest -- cutting all ties to modern society save for the occasional trip into town for supplies. When a terminally ill army buddy appears on Jake's doorstep pleading with his old friend to take care of his young daughter, the gruff veteran reluctantly accepts. As the bond between Jake and his new charge strengthens, the seeds of their growing friendship sets into motion a healing process that will reach beyond Jake to affect an entire community of forgotten war veterans.
Critic Reviews for Missing in America
There are no critic reviews yet for Missing in America. Keep checking Rotten Tomatoes for updates!
Audience Reviews for Missing in America
Missing In America draws us into a world most of us don't even realize exists-the world of the lost generation of Vietnam War veterans -- thanks primarily to Glover's fine perf.
Lee Mayo
½
[center][font=Century Gothic][size=3] **I'm sticking this entry because out of the two movies I watched last night this was my favorite. There are some times when you watch a movie that you just instantly like it and this was one of them. I think being that it was about a war veteran (which I deep respect for all war vets) and that Danny Glover gave a rock solid perfomrance I was hooked. I will def be adding this to our movie collection.** [img]http://images.rottentomatoes.com/images/movie/coverv/61/253261.jpg[/img] [/size][/font] [/center] [center][font=Century Gothic][size=3]Missing in America, was it the craptacular piece of work I was thinking it might be? No it wasn't! It was a really well done independent movie that I'm really glad I took the time to watch. First off I have to start at the end to get to the beginning. The movie includes commentary and video of the Vietnam War Memorial in D.C. This is an amazing place. I have been there myself and while I don't know any of the names on the wall, the sheer magnitude of all the names and the vastness that the wall stretches just left me speechless. Meager words alone cannot explain the emotion that seeing the Memorial can evoke from one. It's a really moving experience to visit The Wall. [img]http://i29.photobucket.com/albums/c291/tazzedgal1/MIA1.jpg[/img] [/size][/font] [/center] [center][font=Century Gothic][size=3]Missing in America is about Jake Neeley (Danny Glover). Jake is a Vietnam War Veteran who is fighting his own personal battles. He lives peacefully in a cabin on the mountainside is the dense woods. Jake hides from the world. Once in awhile he makes a trip into town to buy supplies from the local grocery store run by Kate. (Linda Hamilton) Jake also buys boxes of food he leaves in exchange for wood to many "bush vets" who live in the forest around him. People he's never even met, yet he shares a deep common bond of experience with them. Jake gets a visit from Henry (David Strathairn) who is a former member of Jake's infantry unit. Henry is dying of lung cancer and wants Jake to take care of his daughter Lenny. (Zoe Weizenbaum) Lenny is half-Vietnamese. Jake balks at the idea but has not choice but to take on the role of surrogate father when Henry vanishes. Here we have Jake the old solider and Lenny the precocious preteen thrown together. Can Lenny break through this crusty old war vets heart? Can she help him to change for the better? Can Lenny help these emotionally wounded souls with her desire to share hope and love with them? [img]http://i29.photobucket.com/albums/c291/tazzedgal1/MIA.jpg[/img] [/size][/font] [/center] [center][font=Century Gothic][size=3]When I read the box for Missing in America it read like a disaster. However I wanted to give it a chance because I really enjoy watching Danny Glover. I mean it seems like a huge clichés of a cute little kid breaks through a mean old grumpy mans heart. Even though it seems like it would be a disaster it works and it works amazingly well. Sure it has a few bumps along the way but as a whole this movie has heart and impact to it. The script is very well written. It really hits on your heart and it doesn't hit gently, it hits hard! The script has added power due to the amazing performances from the cast that brings this story to life. [/size][/font] [/center] [center][font=Century Gothic][size=3]The acting in this film was great! Danny Glover was the central character and he did an amazing job of commanding your attention. He is completely believable as Jake, you can feel his pain and his brokenness. I think Glover is a top-notch talent to start with and I like him even more after this movie. The other main character was Lenny played by Zoe Weizenbaum. Being that this was her debut she was a bit hazy at times, but she had real chemistry with the other cast. The other cast members while having smaller roles do amazing as well. [img]http://i29.photobucket.com/albums/c291/tazzedgal1/MIA2.jpg[/img] [/size][/font] [/center] [center][font=Century Gothic][size=3]And as if I didn't like this movie enough, the setting was absolutely breath taking. The music as well was just totally fitting and flowed so well with the movie. [/size][/font] [/center] [center] [font=Century Gothic][size=3] Missing In America is well worth seeing. It's a really amazingly well done independent movie that is highly under rated. [/size][/font] [/center] [center] [/center] [center] [/center]
Kat G
Well meaning but overly dramatic film. Danny Glover is good. It has that made for television feel about it. Nothing outstanding about the film, but nothing awful either. Just another one of those in the middle movies.
James Higgins
Missing in America Quotes
There are no approved quotes yet for this movie.
Discussion Forum
Discuss Missing in America on our Movie forum!