Mission: Impossible Ghost Protocol
(2011)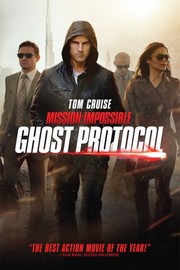 TOMATOMETER
AUDIENCE SCORE
Critic Consensus: Stylish, fast-paced, and loaded with gripping set pieces, the fourth Mission: Impossible is big-budget popcorn entertainment that really works.
Mission: Impossible Ghost Protocol Trailers & Photos
Movie Info
This is not just another mission. The IMF is shut down when it's implicated in a global terrorist bombing plot. Ghost Protocol is initiated and Ethan Hunt and his rogue new team must go undercover to clear their organization's name. No help, no contact, off the grid. You have never seen a mission grittier and more intense than this. -- (C) Paramount
more
Cast
News & Interviews for Mission: Impossible Ghost Protocol
Critic Reviews for Mission: Impossible Ghost Protocol
Audience Reviews for Mission: Impossible Ghost Protocol
When it comes to the MI franchise, the only entry that ever really floured me was the first one. The sequels, while boasting great action sequences, never really manage to stick with me as much as the first. This fourth entry continues that trend, which isn't to say it's bad. In fact, this movie should be seen because the action sequences are indeed mind-blowing. However, on a story and character level it just left me a bit cold.

One big positive about this movie is that it continues the trend set by the third entry by making the story more of an "Impossible Mission Force" ensemble piece (more in keeping with the original television show of the same name) than a Tom Cruise vehicle. And admittedly the film is never pretentious about what it is and what it sets out to do. Director Brad Bird does a very competent job of keeping the story efficiently paced and the movies stunts are stunningly shot.

So overall, the movie does succeed on the level of being a pure action film (although admittedly the parking garage fight between Hunt and the villain got a little too silly for my taste), so why do I still find this entry forgettable the moment I left the theater?

On a plot level, it's mostly just an excuse to go places, and the villain is extremely one-dimensional and barely appears in the film. I know this sounds nitpicky (and it probably is) but MI 3 managed to have a decent villain. The lack of a compelling villain really robs the story of dramatic weight at times. Not only that, but Jeremy Renner's character felt EXTREMELY pointless and his whole arc (involving a "secret") felt so superfluous and not worthy of the mysterious build-up it was given.

Acting wise, the only person that stands out is Simon Pegg. The acting from everybody else ranges from okay to just generic. Tom Cruise feels like he is literally sleep-walking through his scenes, which is a shame.

So once again, much like the past two movies, they succeed on delivering some nice action but didn't make much of an impact to me in any other regard.
½
Brad Bird delivers with this exciting installment in the Mission Impossible franchise, a wholly complete action film with a great script, gripping set pieces, an engaging pace, and a breathtaking sequence outside the world's tallest building.
Mission: Impossible Ghost Protocol Quotes
William Brandt: 23 minutes till door knock.
Ethan Hunt: Your countdown, is not helping!
William Brandt: Your line's not long enough!
Ethan Hunt: No shit!
Brji Nath: Are you impressed yet?
Ethan Hunt: Saturn, take the leap.
William Brandt: [exhales deeply] Ok. [clears throat] Jumping. Jumping now. Jump now?
Ethan Hunt: Yes, commit, jump.
William Brandt: Jump.
Ethan Hunt: Jump.
Benji Dunn: And I catch you.
Ethan Hunt: Now.
William Brandt: So, uh, you're sure about this suit, right, Benji?
Benji Dunn: Pretty sure.
William Brandt: [laughs sarcastically] Now you're pretty sure?
Discussion Forum
Discuss Mission: Impossible Ghost Protocol on our Movie forum!
News & Features