Mississippi Masala
(1991)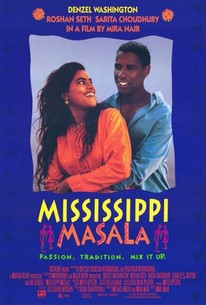 Mississippi Masala Photos
Movie Info
Mississippi Masala is a tale of how prejudice makes victims and instigators of us all. In 1972, Indian Jay (Roshan Seth), a resident of Uganda, is forced by the bigoted Amin regime to take his family and flee the country. He vows to hate and distrust all blacks--at least until he is able to reclaim the real estate stolen from him by the Ugandan government. Flash-forward to 1990: Jay and his family have settled in Mississippi. Seth's daughter Mina (Sarit Choudhury) makes the acquaintance of African-American Demetrius (Denzel Washington), the prosperous manager of a carpet-cleaning business. At first attracted to Mina because he is fascinated by her African background, Demetrius slowly falls in love with her. The situation causes Jay to exercise the same racial prejudice by which he was himself victimized. Ironically, Demetrius behaves just as foolishly, blaming Jay's ethnic chauvinism for a drop in his business. Both Jay and Demetrius must learn to bury their pasts and their prejudices to go on with their lives.
Critic Reviews for Mississippi Masala
Audience Reviews for Mississippi Masala
½
With a heartfelt charm and a boasting and bashful Denzel clicking with an up-&-coming Sarita, Mississippi Masala shadows its flaws by accentuating exotic vibes and solid storytelling. Director Mira Nair's solemn yet enriched direction is highlighting throughout this indie film. 3.5/5
Eugene Bernabe
Super Reviewer
There is too much going on in this movie. It is really a masala of three movies. A story about leaving Uganda, a love story, and a story about living in the south. Any one of these stories would have been enough for a movie. But it is still heartwarming and funny. Beautiful shots of Mississippi.
½
The merging of cultures makes for an enchanting love story that gets waylaid by issues of race and color in a believable way. Mina (Sarita Choudhury) is the daughter of an Indian family who fled Uganda for Mississippi. She develops a relationship with Demetrius (Denzel Washington), a local man. Her family does not approve of her dating a black man, and Demetrius' friends don't like him dating an Indian woman. Lighter-skinned than the blacks, the Indians abhor the notion of interracial romance. The love affair between these two draws out the anger of their two communities and the whites in town. Nobody, it seems, approves of this unusual mix or as the film title implies, this Mississippi Masala. Denzel Washington is an actor of immense and natural charm, and he makes a good match with Sarita Choudhury.
Mississippi Masala Quotes
There are no approved quotes yet for this movie.