Mister Ed - Barnyard Favorites
(1961)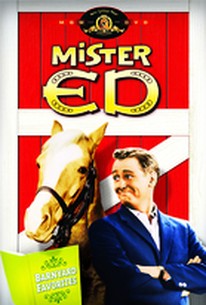 AUDIENCE SCORE
Critic Consensus: No consensus yet.
Movie Info
Rating:
NR
Genre:
,
On DVD:
Runtime:
Critic Reviews for Mister Ed - Barnyard Favorites
There are no critic reviews yet for Mister Ed - Barnyard Favorites. Keep checking Rotten Tomatoes for updates!
Audience Reviews for Mister Ed - Barnyard Favorites
THE definitive 1960's comedy series featuring a talking horse, Mr. Ed. Of course, he only talks to his owner who humors his antics constantly. Brings a tear to your eye to see this fabulously simple yet amusing and sometimes hilarious tale. This compalation of 21 episodes is considered by the makers to be the most hilarious episodes of the multi-year run of the television series. While that may be a matter of debate, it only costs 23 dollars U.S. (includes shipping) to relive those years of yesterday. Mister Ed * is an American television situation comedy produced by Filmways that first aired in syndication from January 5 to July 2, 1961 and then on CBS from October 1, 1961 to February 6, 1966. The stars of the show are Mister Ed, a palomino horse who could talk ("played" by gelding Bamboo Harvester and voiced by Allan Lane), and his owner, an eccentric and enormously klutzy architect named Wilbur Post (portrayed by Alan Young). Much of the program's humor stemmed from the fact Mister Ed would speak only to Wilbur, as well as Ed's notoriety as a troublemaker. NOTES: 1 According to the show's producer, Arthur Lubin, Young was chosen as the lead character because he "just seemed like the sort of guy a horse would talk to". Lubin, a friend of Mae West no less, scored a coup by persuading the screen icon to guest star in one episode. 2 As of January 1st, 2011 the first two seasons of the show are available on www.hulu.com 3 The show's title songtrack composer Livingston, won the Academy Award for Best Original Song three times, in 1948 for the song Buttons and Bows, written for the movie The Paleface; in 1950 for the song Mona Lisa, written for the movie Captain Carey, U.S.A.; and in 1956 for the song "Whatever Will Be, Will Be (Que Sera, Sera)," featured in the movie The Man Who Knew Too Much. * Jay Livingston wrote popular TV themes for shows including sixties rage hit western Bonanza and comedy show Mr. Ed. He also wrote the melody (not the lyrics) to the Christmas song Silver Bells in 1951 for the film The Lemon Drop Kid as well as "Never Let Me Go" for the 1956 film The Scarlet Hour. Jay Livingston is an inductee in the Songwriters Hall Of Fame. 4 The first horse that played Mister Ed for the pilot episode was a chestnut gelding. However, the permanent equine star of the show was Bamboo Harvester (1949-1970), a crossbred gelding of American Saddlebred, Arabian and grade ancestry. 5 By 1968, Bamboo Harvester was suffering from a variety of health problems. In 1970 he was euthanized with no publicity, and buried at Snodgrass Farm in Oklahoma. However, a different version was given by star Alan Young. Young wrote that he'd frequently visit his former "co-star" in retirement. He states that Mr. Ed died from an inadvertent tranquilizer administered while he was "in retirement" in a stable in Burbank, California where he lived with his trainer Lester Hilton. Young says Hilton was out of town visiting relatives and a temporary care giver might have seen Ed rolling on the ground, struggling to get up. Young said Ed was a heavy horse and he wasn't always strong enough to get back on his feet without struggling. The theory is the care giver thought the horse was in distress and administered a tranquilizer and for unknown reason, the horse died within hours. The remains were cremated and scattered by Hilton in the Los Angeles area at a spot known only to him. Sad but apparently true, Mr. Ed, the most famous talking horse ever in televison history.... died of a drug overdose.
monsieur rick
Discussion Forum
Discuss Mister Ed - Barnyard Favorites on our Movie forum!
News & Features