Mitt
(2014)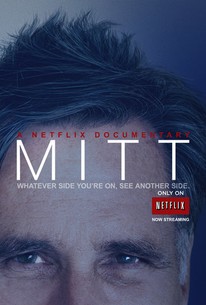 Movie Info
Director Greg Whiteley is granted unprecedented access to Mitt Romney and his family as he runs for President. (c) One Potato Productions
Audience Reviews for Mitt
½
An interesting portrait of a stressed out Mormon family. It takes some guts for the Romneys to allow this kind of access to their internal conversations, and to put it out there for the world to see. But what we immediately realize is that they are, pretty much, just as clean-cut as they portray themselves to be. In some ways that's nice to see, and in other ways, you can't help but wish they would start swearing at one another to make it a little more interesting. All in all, it's an entertaining rewind to the last two presidential elections from a very unique viewpoint. And it's without an overt partisan agenda... there's nothing to lose anymore, so there's no need for spin.
½
Greg Whiteley's Mitt is a documentary looking to capture the behind the scenes persona of Mitt Romney, presidential candidate in 08' and presidential nominee in 12'. Focusing almost entirely on his interactions with his family, and the emotional drain of the campaigns, the film is successful in capturing a humanizing portrait of Romney. We see a man that is not disconnected and arrogant, as portrayed, but a man of a family-oriented bent and a real passion. He is seen as kind, self-aware, and a man of tenacity. This is what Mitt does the best, managing to give us a side of Mitt that was ever hidden from us, and does so in an authentic way. What the film lacks is any real insight in to the campaign strategy itself. To be sure, this was not the drive of the film, yet the film suffers from not really digging in to the dynamics of the campaign. The strategy fills stiff, the supporting staff outdated, everything too standardized. The message, too dispassionate. We see Mitt complain about how he was characterized, yet never see any real defense of the many criticisms, such as his flip-flopping. The entire campaign seemed run as if protecting a lead, hopelessly disconnected with the reality of the political climate, and not willing to be bold enough. The Mitt behind the camera seems to have charisma, yet that was never translated. Instead, what was portrayed was calculated, cold, and overly polished. One can't help but see the irony in this, a man's truest attributes end up making his greatest liabilities. A worthy documentary if not for a more nuanced look at Romney. 3.5/5 Stars
Jeffrey Meyers
Super Reviewer
Mitt Quotes
There are no approved quotes yet for this movie.