Mo' Money
(1992)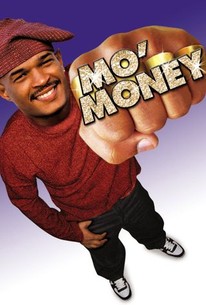 Movie Info
Small-time crook Johnny Stewart (Damon Wayans) decides to go straight to win a beautiful girl (Stacey Dash), and to prove it, he joins the mailroom of the credit-card firm for which she works. Needing money to impress her, Johnny steals a credit card, goes on a shopping spree and wins the girl. The story isn't over though, because a security guard who caught his theft on videotape is blackmailing Stewart to join his own credit-card ring. ~ John Bush, Rovi
Critic Reviews for Mo' Money
Audience Reviews for Mo' Money
As much as I loved In Living Color I really wanted to like this movie.I also wanted to like this movie as much as I thought I once did.It was just OK.It held my attention for awhile but I noticed myself doing other things, forgetting it was on & having it on as background noise a few times.I think the best & funniest parts of the movie were the In Living Color type moments.The thing that amazed me about this movie was that it went from being a comedy to a romantic comedy to an action flick.I don't think I'd recommend anybody to go out of their way to see it but if it's on & absolutely nothing else is on, you're bored out of your mind then I'd tell you to watch it.Too be honest with you, Even then I'm not sure I'd tell you to watch it.There's probably another movie out there you could be watching
Brody Manson
Super Reviewer
The action comedy can be one of my favorite types of films when do right. Many movies have balanced the two genres successfully, but unfortunately, "Mo Money" is as conflicted as its lead character. It's amiable enough, so much so that the unnecessary violence is jarring, and I found there to be no one to root for despite the fact that the three lead actors are all likable enough. Damon Wayans is a talented comic actor, but it's hard to get behind him here because his character continually makes bad decisions. It's hard to feel any compassion towards him, and while Stacey Dash is almost impossibly attractive, she isn't given much to do here. There's not even any conflict between the two when the corporate executive Dash finds out that her new boyfriend from the mailroom Wayans has been lavishing gifts on her paid for by stolen credit cards. The film is far more concerned with trying to get easy laughs from black film stereotypes such as the unattractive, love-starved female co-worker and the not-funny-enough-to-be-insulting gay humor. It's just mindless pandering to its target audience. The violence-filled finale seems even more outlandish when you stop to consider that these are white-collar criminals doing all of the damage. Not only does it feel out of place in a film as laid-back as this one, it's nonsensical as well. "Mo Money" is an uneasy mix that never quite gels like it should, It would have been more successful as a simple comedy.
Timothy Sanders
(***): [img]http://images.rottentomatoes.com/images/user/icons/icon14.gif[/img] Funny and entertaining.
TTT C
Mo' Money Quotes
There are no approved quotes yet for this movie.
Discussion Forum
Discuss Mo' Money on our Movie forum!