Mo' Money
(1992)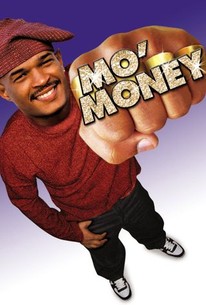 Movie Info
Small-time crook Johnny Stewart (Damon Wayans) decides to go straight to win a beautiful girl (Stacey Dash), and to prove it, he joins the mailroom of the credit-card firm for which she works. Needing money to impress her, Johnny steals a credit card, goes on a shopping spree and wins the girl. The story isn't over though, because a security guard who caught his theft on videotape is blackmailing Stewart to join his own credit-card ring. ~ John Bush, Rovi
Critic Reviews for Mo' Money
Audience Reviews for Mo' Money
As much as I loved In Living Color I really wanted to like this movie.I also wanted to like this movie as much as I thought I once did.It was just OK.It held my attention for awhile but I noticed myself doing other things, forgetting it was on & having it on as background noise a few times.I think the best & funniest parts of the movie were the In Living Color type moments.The thing that amazed me about this movie was that it went from being a comedy to a romantic comedy to an action flick.I don't think I'd recommend anybody to go out of their way to see it but if it's on & absolutely nothing else is on, you're bored out of your mind then I'd tell you to watch it.Too be honest with you, Even then I'm not sure I'd tell you to watch it.There's probably another movie out there you could be watching
Brody Manson
Super Reviewer
This came out at the time In Living Color was very popular and this movie employs some of the same slapstick type of comedy. Marlon and Damon are funny as brothers/scam artists. A young Stacy Dash looks absolutely fantastic. This is one of the first and possibly the best of all the Wayans movies.
Chad Roesti
Super Reviewer
Mo' Money Quotes
There are no approved quotes yet for this movie.
Discussion Forum
Discuss Mo' Money on our Movie forum!