The M.O. of M.I.
(2002)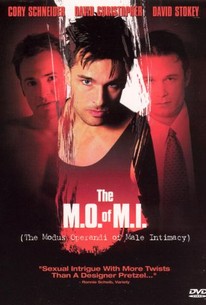 AUDIENCE SCORE
Critic Consensus: No consensus yet.
Movie Info
The idealistic life of a loving gay couple gives way to blackmail and betrayal when a wildcard conman arrives on the scene in director Susan Turley's dark crime drama. Austin couple Michael (David Stokey) and Tom (Cory Schneider) have been together for eight blissful months, but when sexy hustler/performance artist Jonathan (David Christopher) comes into their life, things quickly take a turn for the worst. When Michael reluctantly agrees to provide Jonathan with a place to stay for the night, Tom is noticeably agitated and they soon start to suspect that their new houseguest is hiding out. Now saddled with a third roommate who seems to share a mysterious past with Michael, Tom and his partner seek to find out the true story behind their ominous guest before Jonathan's past returns with a vengeance.
Rating:
R
Genre:
,
Directed By:
Written By:
In Theaters:
On DVD:
Runtime:
Critic Reviews for The M.O. of M.I.
There are no critic reviews yet for The M.O. of M.I.. Keep checking Rotten Tomatoes for updates!
Audience Reviews for The M.O. of M.I.
What is it about gay-themed films and really awful music? [i]The M.O. of M.I.[/i] (I'll refrain from using the full title, [i]The Modus Opperandi of Male Intimacy[/i] because, like the movie itself, it's a little long and a little pretentious) has some terrible psuedo-soft rock, the sort of low-rent warbling crap that happens when pop radio tries to emulate grunge. I haven't honestly heard music this bad since, well, [i]Broadway Damage[/i], another sub-par gay flick. That involved a supporting character that was supposed to be a promising musician, even though their music was terrible. Similarly, this film has a supporting character that's supposed to be a promising performace artist, though their act is as stale as a David Drake monologue. It's a shame, because there's good things about the film. Michael (David Stokey) and Tom (Cory Schneider) are a happy couple that have been together eight months. In moves performace artist Jon (David Christopher), who crashes on their couch as a place to do his upcoming drug deal much to the chagrin of Tom. Unbeknownst to Tom, Jon and Michael are old lovers. There's plot twists to be had between the three of them, and it turns into a big con game that, while it never reaches the level of Mamet (or even Curtis Harrington's [i]Games[/i]), are interesting enough for me to keep concealed. The big trouble comes in the form of two guys who've come to town for the deal, though the spend much of the film taking care of business in what seems to be an unrelated sub-plot. While David Stokey does a great job as essentially the lead character, Cory Schneider and David Christopher are another story. All the other characters refer to Tom as being "so young," but Schneider seems about the same age as the other two, and it doesn't help that his character is so simultaneously bitchy and flamboyant that he never really connects as a character. Christopher, playing what's supposed to be a sexy performance artist, confuses "seductive ruffian" with "scruffy serial killer," staring eerily at everyone else on screen. Director Susan Turley doesn't really do much with the plot, giving way to the naturally stagey aspect of any film that's been translated from the stage. There is some fun to be had, and even the less talented leads have a fair share of sex appeal, but it still means making it past a ponderous epilogue that caps a relatively satisfying ending. You could do worse than The [i]M.O. of M.I.[/i], but it's neither thrilling enough nor sexy enough to really be the sort of eroticly-charged thriller the box art depicts. Bleah.
Paul Freitag
The M.O. of M.I. Quotes
There are no approved quotes yet for this movie.