Mob Story
(1990)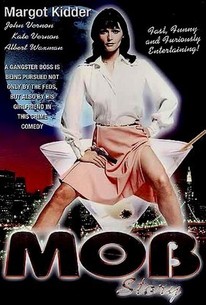 AUDIENCE SCORE
Critic Consensus: No consensus yet.
Movie Info
A gangster boss (John Vernon) is being pursued not only by the feds, but also by his girlfriend (Margot Kidder) and his old pal (Albert S. Waxman). With nowhere else to go, he heads north to Winnipeg to stay with relatives, and ends up teaching them a few things about the life of crime.
Critic Reviews for Mob Story
There are no critic reviews yet for Mob Story. Keep checking Rotten Tomatoes for updates!
Audience Reviews for Mob Story
Talk about boring, It took me 2+ hours to watch a movie that was 1 hour & 33 minutes.Instead of just turning it off, for whatever reason I kept pausing it to go do other things & coming back to it.There was nothing really funny about Mob Story.If there was, I must have missed it.The only funny thing I ever remember happening was the part where the hitman licked his gun & it got stuck to his tongue because of the freezing weather.Now that was funny!!! Nothing really ever happens either.The only time something happens was the last 10-15 minutes which also had to be the best part (If you can even call it that) of the movie (I guess they decided to save the best for last, Ha Ha) As you've probably already guessed, Mob Story is a movie I would NOT recommend.If somebody told me ahead of time they were thinking of watching it, I'd tell them to skip it & watch something else.There are millions & millions of things you could be better off doing with your time so why do like I did & waste an hour & 33 minutes of your life you'll never get back
Brody Manson
Super Reviewer
Mob Story Quotes
There are no approved quotes yet for this movie.