Mockery
(1927)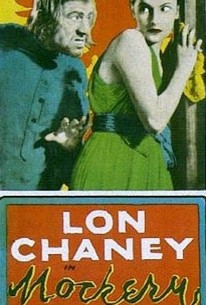 AUDIENCE SCORE
Critic Consensus: No consensus yet.
Movie Info
One of the rare American films directed by Danish auteur Benjamin Christensen, Mockery stars Lon Chaney Sr. as a half-witted Russian peasant. On the verge of starvation, Chaney is hired to guide a beautiful countess (Barbara Bedford) through the treacherous Siberian wastes. Once he arrives at the countess' home territory, Chaney is swept up by the Bolshevik movement. He comes to despise the aristocracy in general and the countess in particular, but the young woman's kindness towards him weakens his revolutionary resolve. Long thought lost, Mockery was rediscovered and preserved in the mid-1970s; the film was based on a story by Stig Esbern.
Critic Reviews for Mockery
Audience Reviews for Mockery
½
Transformed into a swarthy, mono-browed peasant, the incredible Lon Chaney leads this story based in historical Russia. Chaney is Sergei, a none-too-bright vagrant who happens upon a beautiful but plainly dressed woman in the forest. She needs an escort to the town of Novokursk and asks him to temporarily pose as her husband. Eventually, the truth comes out: She is a countess hoping to travel unnoticed. This situation becomes the excuse for Chaney's typical vehicle as the doomed misfit who loves a woman far beyond his station. Countess Tatiana (Barbara Bedford) arrives in Novokursk to stay with the wealthy Gaidaroff family, and finds Sergei a trivial job at the mansion. But he is not satisfied with this, having been grandly promised that he and Tatiana would be friends forever. He falls under the spell of another servant who is caught up in the dogma of the coming revolution (just wait until you see this actor's grotesque mug). Driven into a rebellious frenzy, Sergei becomes more aggressive with Tatiana. And this is where the film squanders its appeal. We're left without a sympathetic hero. The story would have worked better if it had opened with Tatiana as the main character -- a kind noblewoman who meets a troubled brute while trying to complete a difficult journey. But Chaney was the marketable star, not Bedford. "Mockery" doesn't test Chaney's acting powers as much as his top work, but the film is short and hence not much of a chore to muddle through.
Eric Broome
Super Reviewer
Mockery Quotes
There are no approved quotes yet for this movie.
Discussion Forum
Discuss Mockery on our Movie forum!