Modra
(2010)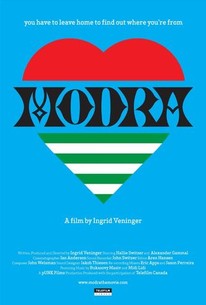 Movie Info
Two teenagers learn you don't have to be in love to break someone's heart in this drama. Seventeen-year-old Lina (Hallie Switzer) visits her mother's family in Modra, Slovakia every summer, but she finds herself facing the prospect of making the trip by herself when her boyfriend abruptly breaks up with her. At the last minute, Lina invites Leco (Alexander Gammal), a boy in her class, to join her; she thinks he's cute, and he's in the market for a girlfriend, so the two set out for Modra. While Lina's family assume the two are an item, it soon becomes obvious to Lina and Leco that they don't share much beyond a return ticket, but that doesn't keep Leco from feeling hurt and betrayed when Lina steps out with a boy she's just met. Modra was written and directed by Ingrid Veninger, who previously distinguished herself as a producer.
Audience Reviews for Modra
½
Put together a girl who was just dumped by her boyfriend, a trip to Slovakia, a last minute substitute boy as a travel companion, and 17 year-old passions and you have an interesting movie. Some of the filming in Slovakia seemed stilted - they could not have been actors.
What a wonderful little film this is. Director Ingrid Veninger channels a Sofia Coppola sensibility, turning Modra into a "Lost in Translation in Slovakia." Modra differs from Coppola's masterpiece in that it focuses less on universal disconnect than on youth adolescence and their search for identity. The two main characters, Lina and Leco are both 17 years old. Lina's boyfriend has just broken up with her, 24 hours before they are supposed to leave for Slovakia. Before she has time to grieve, she gets a call from Leco, a boy she briefly met at a party. He's just as confused and lonely, almost desperate to find someone to hang out with for the summer. Lina invites Leco to accompany her on her vacation and he accepts. The scene is executed remarkably well, the camera holding on the teens' faces, the awkward silences of the conversation, capturing everything that is being said and not said. The film plays out like a love letter to Slovakia, but not as a travel video. It celebrates the country as part of this girl's heritage. Lina's search for her cultural identity mirrors her search for a personal identity. She meets her extended family and learns why her parents left for Toronto so many years ago. Along the way, her friendship with Leco buds into a romance. Their relationship takes them through periods of passion, anger, and hope. Both teens have their own personal demons, and unlike so many romance films, Modra knows that these anxieties can't be resolved simply through love. But knowing that they've made a special connection with each other makes confronting those anxieties that much easier. Modra might not be an easy film to find, but it is worth checking out should you get the chance. It is a great example of how the quality of Canadian film has risen substantially in this new decade.
Edward Boxler
Super Reviewer
Lovely genuine film about a teenager discovering her roots in Slovakia...and her unlikely companion. The kids and the town are the stars as believable awkwardness leads to genuine emotion.
John Ballantine
Super Reviewer
Modra Quotes
There are no approved quotes yet for this movie.