Modus Operandi
(2010)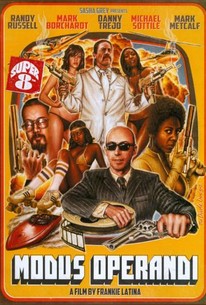 Movie Info
Two briefcases with mysterious contents are stolen from top Presidential candidate Squire Parks, setting off a deadly series of double-crosses and betrayals. Desperate warring factions of subterranean organizations will stop at nothing to gain possession of the sensitive material. A covert branch of the CIA calls on notorious black ops agent Stanley Cashay, who has been barely existing in a semi-comatose twilight since the murder of his wife. Cashay is offered the identity of his wife's killer in exchange for locating and returning the cases. Agent Cashay uses the most dangerous weapons at his command, the telephone and his reputation, to unleash a bizarre assortment of operatives, including the deliciously sleazy Casey Thunderbird and exotic Tokyo-based special agent Black Licorice. Along with scores of other beguiling rogues, they initiate a horrifying chain of events, including ruthless torture and brutal killings. When Cashay is finally in possession of the stolen materials, the contents of the briefcases shock even him, and he makes a decision that will change the course of history. Cashay then sets the wheels in motion for bitter revenge and harsh justice, but not before the entire operation is nearly derailed as merciless underworld forces fight back. The final chapters play out as an increasingly surreal vision of modern reality, skirting the edge of sanity and culminating with the wrath of the powerful Director Holiday, a man who would put the fear of God into God Himself. -- (C) Official Site
Rating:
NR
Genre:
, , , ,
Directed By:
Written By:
In Theaters:
Runtime:
Critic Reviews for Modus Operandi
Audience Reviews for Modus Operandi
He wasn't scared of his enemies but they were scared of him. A CIA agent is distraught after his wife is murdered. He lives in despair in his home in a depressed, disgusting state; however, one day, the CIA sends women to pick him up, straighten him out, and deliver a mission to bring down the men responsible for her death. He'll need to go covert into their operations and shoot his way out. "I've been extremely busy spending the tax payer's money." Frankie Latina, director of the upcoming Skinny Dip and Snapshot, delivers Modus Operandi in his directorial debut. The storyline for this picture is bland, disappointing, and focused more on nudity and trying to be a 70s grindhouse parody than being a worthwhile film. The acting was also awful and the cast includes Danny Trejo, Randy Russell, Mark Borchardt, Mark Metcalf, and Andrew Swant. "Your cunning, your whit, and your curves are needed for the United States." I grabbed this random Danny Trejo film off Netflix while in the mood for a new age grindhouse movie. Unfortunately, this was a huge disappointment and definitely felt like it was trying too hard to be like the recent Rodriguez and Tarantino pictures. Overall, I recommend skipping this. "Now you've seen it all." Grade: F
Kevin Robbins
½
The CIA hires a retired, alcoholic agent to track down two stolen briefcases in return for the name of the man who killed his wife. A fake grindhouse movie with constant nudity, torture and gore and about a 5% admixture of surrealism. Always surprising, not overly jokey, and much smarter than most of its ilk, while still delivering the exploitation goods.
Modus Operandi appears to have been made on a shoestring budget in 1974, but, in fact, it was made in 2010. The acting in this film ranges from terrible to passable (mainly in Danny Trejo's scenes). However, something about the dreamlike atmosphere kept me entertained and watching throughout. I wouldn't say it is a good film, but it definitely kept me entertained. Those that are not interested in a 70s throwback with lots of breasts and bullet holes will likely loathe this movie. Fans of grindhouse cinema and 70s exploitation flicks, however, will probably find this watchable
Alex Hoffman
Modus Operandi Quotes
There are no approved quotes yet for this movie.
Discussion Forum
Discuss Modus Operandi on our Movie forum!