Mojave Phone Booth
(2006)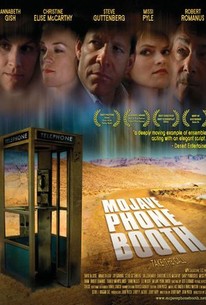 AUDIENCE SCORE
Critic Consensus: No consensus yet.
Movie Info
At a mystical, bullet-strewn outpost in the heart of the Mojave Desert, four disparate working-class people from the streets of Las Vegas will find their lives forever changed. Few normal people would expect to find an abandoned phone booth in the middle of the desert, yet for some of the more eccentric travelers, it's actually the entire reason for their journey. The myth of this phone booth was born on the Internet. Windows smashed and covered in graffiti, the lonely booth sets at the end of a long stretch of road surrounded by nothingness for hundreds of miles. But it still functions, and there's always the prospect that at any moment, the telephone may unexpectedly come alive with the sound of a ring. The callers phone in from all corners of the country, and the occupant inside never knows what interesting conversation could await them. Now, as four lonely strangers set up camp near this abandoned phone booth, they are all about to discover that they are better connected to the outside world than they ever imagined. ~ Jason Buchanan, Rovi
Rating:
NR
Genre:
,
Directed By:
Written By:
In Theaters:
On DVD:
Runtime:
Studio:
Critic Reviews for Mojave Phone Booth
There are no critic reviews yet for Mojave Phone Booth. Keep checking Rotten Tomatoes for updates!
Audience Reviews for Mojave Phone Booth
A movie that definitely has this creepy, uneasy vibe of something lurking just below the surface of the sunlight and the tumbleweeds of the Las Vegas setting. Audio and video tape play a central theme, being found tangled up in bushes everywhere and used to contain people's dark secrets, desires, experiences. I found it interesting that such a medium is what's being explored as opposed to, say, broken CDs or something in this day and age. So what does tape represent, exactly? In my mind, it's the last physical form of information. With digital devices, things that are recorded show up on screen, but what carries them bears little relevance anymore. Information is just information, stored perhaps on a teeny tiny silicon chip that's smaller than the size of a person's fingernail. It can be devastating or beautiful, but no longer truly destroyed if it is uploaded onto the internet or wherever. Tapes, on the other hand, remain to remind the characters of the things they'd rather forget. For Beth, the tape reveals just how crazy her lover is in his attempts to convince her to move in with him by breaking into her car night after night. For Mary, the tape serves proof of how much of her soul she is willing to give up for money. For Alex, the tape is a terrible reminder of how irrational her girlfriend is, in tandem with the man who claims to "heal" her; and finally, for Richard, the tape is the ultimate failure of his life, something that only drives his separated wife farther from him, and reveals that she was never truly happy with him in the first place. I really want to analyze all these characters to pieces... but I have to choose my battles carefully. The most important comparison, though, that I want to make between characters is the one between Richard and Barry. Throughout the whole time that we see him, Richard is so miserable, so in pain. Barry, on the other hand, doesn't feel anything for anyone besides this sense of vague amusement at the prostitutes he hires. In this way, he vaguely reminds me of American Psycho's Patrick Bateman (especially when he draws the lever for paper towels in the bathroom with his elbow in an OCD kind of manner), only a lot less dangerous. He's the type that a person has to invite into their lives to do any real damage - and when Mary entertains the notion of trying to get out of what she must do for the money, he simply says she won't get the money, end of story (as opposed to trying to murder her). But MY POINT IS that Barry seems so smug that he doesn't have to endure the pain that Richard deals with - no human connection, no trouble that comes with it - but really it is Richard who is the better person. The woman on the other end of the Mojave Phone Booth line knows this, but sadly, she can't do much as he bleeds to death. That made me really sad. I wondered why his wife bothered marrying him at all because she seemed like such an unhappy, unsatisfied person in general. I was glad to see that Mary wound up relatively okay, working at the Vegas bar/casino alongside Alex. I wondered who the woman on the phone really was, but could easily imagine some spry old lady who'd traveled the world and just wants to help people in her own way. Or maybe she's one of the aliens that Beth hypothetically muses about, the ones who pick up the tapes and learn about human civilization from them - you never know. I only think of those aliens at all because of the last scene of Alex's story - which, in its own way, involved hypothetical aliens - where some tape mysteriously falls from the sky. So all of these crazy things happen to all four people, but somehow it all works out. Just like life is wont to do. And as Beth and Richard's wife finally meet at the now-excavated phone booth, the connection that was once that voice on the phone now reincarnates as this new found link between these two women. The voice's legacy lingers on in the hope that these characters can learn to reach out and, in time, lean on one another for support. I get the feeling that these women had never bothered to risk making such a connection before. In this way, the movie leaves us with a sense of subtle, gentle, fantastic hope. The last line says it all: "you can talk to me."
Jennifer Sundt
Four interconnected stories all revolving around a phone booth out in the middle of the desert. A mysterious voice offers advice to these people who are all at the end of their ropes somehow. Not a waste of time, but not worth recommending to others, either.
Derek Daniels
Super Reviewer
½
Kind of an interesting movie, but at times worked a little slow for me. I do like when there are several stories and that they somehow are ususally connected by an item. I even read a little history of the actual phone booth, which was interesting as well. But the promise of this moviekind of dropped as it didn't seem to flow the best and sometimes went a little slow. What shouild have been a good watch was a little boring.
Mojave Phone Booth Quotes
There are no approved quotes yet for this movie.
Discussion Forum
Discuss Mojave Phone Booth on our Movie forum!