Molly: An American Girl on the Home Front
(2006)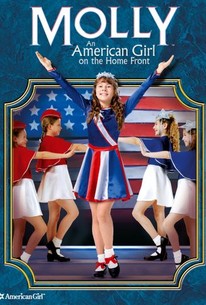 AUDIENCE SCORE
Critic Consensus: No consensus yet.
Movie Info
You've met Samantha and Felicity, and in this, the third installment of the American Girl series, viewers are treated to an all-new family-friendly adventure that will warm your heart during the chilly holiday season. Molly Ringwald and Maya Ritter star as director Joyce Chopra brings the best-selling books about the lovable Molly McIntire to life on the big screen for the first time ever. The year is 1943 and war is raging across the globe. Molly's father is tending to wounded soldiers far from home, and all of the rubber rationing and turnips have gotten put the usually cheerful youngster into an uncharacteristically drab mood. To make matters worse, young Molly soon discovers that her father will not be able to return home for the holidays. But Molly isn't about to let her spirit be broken by the fact that her father is away performing his patriotic duties. Thanks to a little help from her family and friends, Molly is about to learn a lasting lesson about the importance of pulling together in times of need.
Rating:
NR
Genre:
, ,
Directed By:
Written By:
In Theaters:
On DVD:
Runtime:
Studio:
WARNER BROTHERS PICTURES
Cast
Critic Reviews for Molly: An American Girl on the Home Front
All Critics (0) | Fresh (0) | Rotten (0) | DVD (1)

Audience Reviews for Molly: An American Girl on the Home Front
½
Cheaper Than the Dolls, Anyway Americans are, of course, notorious for their lack of knowledge of their own history, much less anyone else's. And so there is something to be said for the American Girls line of dolls, at least, inasmuch as they are helping to teach girls history. Or at least those girls whose parents can afford the dolls. And the vast amounts of accessories. At any rate, it isn't every doll series which offers to teach about the 1853 New Orleans yellow fever epidemic, so that's something. I also approve of the existence of the books, because they're a lot cheaper than the dolls but encourage girls to read--and teaches them that history can be a real story and really interesting. Indeed, the special features of this disc are mostly featurettes of women who lived through relevant events during World War II talking to girls of the dolls' demographic. Including a group of WASPs, the Air Force kind, which most people don't realize existed. Molly McIntire (Maya Ritter) is an average third-grade girl in 1943. She lives in a small town in Illinois with her parents (David Aaron Baker and Molly Ringwald), brother (Andrew Chalmers), and sister (Genevieve Farrell). At the beginning of the story, all she cares about is the prospect of winning the class competition and becoming Miss Victory, the best tap-dancer of the group. But rationing means she can't have the tea party she wants for her birthday. Her father enlists to be a doctor for the Army. Her mother goes to work at a defense plant. And Emily Bennett (Tory Green), an evacuee from London, comes to live with them. Over the course of the movie, the war slowly comes home for Molly. Her favourite teacher, Miss Campbell (Sarah Manninen), is engaged to a soldier. Their neighbour, Mrs. Gilford (Sarah Orenstein), has a son off fighting. Molly's Aunt Eleanor (Amy Stewart) can't live with them, because she's off to be a pilot in the WASPs. One thing the movie teaches is that Americans in 1943 were a lot more involved in the war their military was off fighting. Even if the audience doesn't necessarily know what a Victory Garden is, the sign is prominent enough to catch the attention and might interest a girl in looking it up. Banners with stars on them are, however, explained, and it's made clear that they're common. There is, as mentioned, rationing. Molly and her friends (Hannah Fleming and Samantha Somer Wilson) go to the movies more than modern kids probably do, and when they go, they see newsreels about the war--and those were considerably more graphic than anything you'd happen to catch on the news today. (Newsreels weren't under the control of the Hays Office, which made the limiting of what you could show in the movies themselves a little laughable.) Probably if you asked any of Molly's classmates where Tripoli, mentioned in passing, is, they'd know. And if they didn't, their parents assuredly did. At the same time, this movie is nostalgic for those days in a curious sort of way. Yes, the movie eventually shows Molly, et al., running War Bond drives, rolling bandages, and other actually helpful things. But there is, at the same time, the whole Miss Victory thing. One of the featurettes is titled "Uncle Sam Wants You . . . to Tap Dance" and talks about the importance of the USO. But Molly wasn't in the USO and wasn't going to be; this was merely a small-town contest which would be lucky to catch anyone's notice twenty-five miles away. On the other hand, there's something symbolic about it, especially after Molly's father goes away. It is not, as it might be in a different era, just about beating the show-off. Though there's an aspect of that to it as well, and rightly so. One gets the impression that Molly's life is mostly idyllic, except for the heart-stopping moments when the young man with the telegrams rings the doorbell. Forever after, she must have seen the making of casseroles as an ominous activity. This is the second American Girls movie I've seen, following the theatrically-released [i]Kit Kettredge[/i]. The cast is less impressive on this one, with the only real Name's being Molly Ringwald. (And, yes, she has kids.) However, the acting isn't noticeably worse for all that. There was one moment which made me laugh when it wasn't supposed to--they had the British kid dance with an American flag at the end--but all in all, it's not a bad little film. It's really much more a series of vignettes than the other, but there's nothing wrong with that. Molly's biggest interest is dancing Miss Victory and having her dad come home safe, and it's not hard to relate to either. If nothing else, as I said, this movie serves to bring the realities of World War II home to a generation of girls who may not know anyone who lived through it. My own mother is a senior citizen now, and she was born the year after this movie was set.
Edith Nelson
Tory Green r0xx0rz my s0xx0rz and she's gonna be hot someday. Molly Ringwald is not a mom. Maya Ritter, despite her ratty-ass grin, has a surprisingly deep voice which I enjoyed. Nice '40s atmosphere.
Alice Shen
Super Reviewer
Maybe I'm just a cry baby lately but I've cried two days in a row over Molly and Felicity. Or maybe the American Girl movies are just pretty stinking amazing! Now I have to see Kit and Samantha.
Dannielle Albert
Super Reviewer
Discussion Forum
Discuss Molly: An American Girl on the Home Front on our Movie forum!
News & Features