The Molly Maguires
(1970)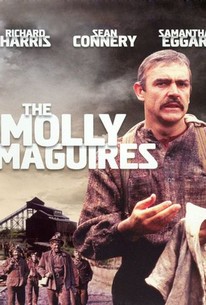 The Molly Maguires Videos
The Molly Maguires Photos
Movie Info
Irish immigrant coal workers rebel against the harsh company policies in a Pennsylvania coal town. The company hires Pinkerton detective James McParlan (Richard Harris) to infiltrate the rank and file workers and report back on any union activity. Their leader is Jack Kehoe (Sean Connery), the tough Irish organizer who stands up to the company when he asks for a decent suit of clothes for the funeral of a co-worker. The Molly Maguires is the secret society of miners that seeks to right the wrongs of the unjust and callous owners of the company. McParlan tries to join the gang, but Jack is suspicious of the visitor. The two gain mutual respect for each other despite being on different sides, and McParlan even rescues a union member from certain death. The gang carries on an underground war against the evil forces of the cold-hearted company. Samantha Eggar is the love interest for James. This 11 million dollar production only took in 1.5 million at the box office from the initial release of this sometimes slow-moving drama.
Critic Reviews for The Molly Maguires
Audience Reviews for The Molly Maguires
A band of immigrant coal miners establish a secret society to deal with their harsh working conditions in any manner necessary. Quiet, understated performances by Harris and Connery set a grim tone for these true to life events, but overall the film fails to build to a satisfactory emotional climax.
Tim Henry
I really liked the music score for the film. I thought that the film presented a good aspect to what a coal miners life was life and town life for Irish immigrants in a small coal town during the 1870's. I thought the film showed a good representation of the troubles the mines faced by its workers and how the workers had difficulty getting away from businesses like coal mining because they charged there employees for everything from housing, food, local shops, supplies they consumed on the job like carisean and oil to light their lamps to see. I thought the ending was a little odd. I found it interesting this film presented this from the viewpoint of a man hired to investigate the coal vandilers causing damage to the coal mining business. I actually felt more towards them than the coal mining business who I would consider the villains not the good guys in this film. I thought that the ending was odd.
STCENTERPRISE .
What happened to kids in the 40s and 50s to make them so damn depressed in the 70s? In a classic 1970s move, this flick ends on one of the greatest downer moments ever. Not much happens in this one, but Harris carries it well enough and, my god, the ending!
Scott Corley
The Molly Maguires Quotes
There are no approved quotes yet for this movie.
Discussion Forum
Discuss The Molly Maguires on our Movie forum!