Molly's Game
(2018)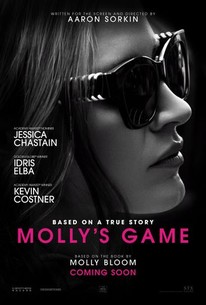 TOMATOMETER
AUDIENCE SCORE
Critic Consensus: Powered by an intriguing story and a pair of outstanding performances from Jessica Chastain and Idris Elba, Molly's Game marks a solid debut for writer-director Aaron Sorkin.
Movie Info
MOLLY'S GAME is based on the true story of Molly Bloom, an Olympic-class skier who ran the world's most exclusive high-stakes poker game for a decade before being arrested in the middle of the night by 17 FBI agents wielding automatic weapons. Her players included Hollywood royalty, sports stars, business titans and finally, unbeknownst to her, the Russian mob. Her only ally was her criminal defense lawyer Charlie Jaffey, who learned that there was much more to Molly than the tabloids led us to believe.
News & Interviews for Molly's Game
Critic Reviews for Molly's Game
Audience Reviews for Molly's Game
I may be a sucker for Sorkin's scripts, but there's no denying how great a writer he is, especially after watching this film, and it turns out, he is a pretty good director too. This is an interesting story about an incredibly interesting woman told in an interesting manner. Chastain is terrific and Elba is great, but the real star is the complex and engrossing life of Molly Bloom and Sorkin' screenplay about her.
Sanjay Rema
Super Reviewer
½
Molly's Game is Aaron Sorkin's directorial debut, clearly having studied at the altar of David Fincher, and he packs a lot into his 140 minutes chronicling the rise and fall of Molly Bloom (Jessica Chastain), a former Olympic hopeful who found herself running an expensive, private series of poker games. She's drawn into an unfamiliar world and through her tenacious grit, preparation, and fortitude, she is able to become a fixture amongst the rich. Then the FBI comes knocking and wants to charge her in conjunction with being part of a Russian money laundering operation. Driven by a fierce performance from Chastain, Molly's Game is a gloriously entertaining movie that glides by. It burns through so much plot so quickly, so much information, that you feel like you might have downloaded Bloom's book while watching. The musical Sorkin dialogue has never sounded better than through the chagrined, take-no-prisoners Chastain. The snappy dialogue pops, the characters are richly realized, and even during its more outlandish moments, like a surprise paternal reunion therapy session, Sorkin packs multiple movies of entertainment in one brisk, excellently manicured production. Nate's Grade: A-
Nate Zoebl
Super Reviewer
½
Adapted from the novel by Molly Bloom (the subject of the film), Aaron Sorkin has officially stepped up to helm his first film as both writer and director. Most notable for his screenwriting work on The Social Network, Moneyball, or Charlie Wilson's War (just to name a few), I've always had a love for anything he writes. His screenplays always place the dialogue in the forefront, making for a very intense drama on almost every account. Even if the material is dull, he always finds a way to pick up the pace and make it an interesting and engaging experience for audiences. Molly's Game is his latest film that's about to hit the big screen, and once again, his style is as engaging as ever. You should keep your eye out for the release of this film. Opening with a very stylish sequence involving her past as an Olympic skier, we quickly learn that her character has been through a lot and will be a very devoted person throughout the course of the movie. From then on, this film is a series if dialogue-driven scenes that never seem to stop until the credits roll. Throwing you into the life of Molly as a waitress, only to see her grow into a woman who assists in running a high-roller underground poker event, this film wastes no time on the small stuff. Whenever it seems as though a certain plot point is starting to drag, it jumps forward in time, either immersing you in an intense game of poker, an emotional moment with a family member, or simply a double-cross by one of the players. Characters state that everything going on is technically legal, but you'll still find yourself wondering, which is the beauty of such a well-written screenplay. This movie doesn't create an overdone conclusion because that's not the point of this film. This film exists to prove that this woman was innocent in what she had done and that everything was legal along the way. Sure, there are moments of tension between characters, but the film has much more heart behind it as well. This screenplay deserves a nomination of some kind, there's no doubt about that, but is the direction just as impressive as the script? When writers or even actors step into the director's chair, it's always a risk for the studio. They could be fantastic and make the right step for their career, or it could end up where they should've stuck to what they knew best. Happily, Aaron Sorkin is definitely worthy of making films in my opinion. No, the visceral imagery and camerawork that comes from a film directed by the likes of a David Fincher (who he has worked with in the past) are certainly not present here, but that's not to say he did a bad job in the slightest. Molly's Game is above average in terms of direction and I can see him continuing to pursue this area of his career and doing an even better job. He was clearly passionate about this particular story and I believe his choices paid off in spades. In the end, I believe Molly's Game will definitely be up for a few awards this coming season, due to its devoted cast and crew throughout the entire production. From its inspired editing by a trio of editors who have worked on some pretty large productions to its Oscar-worthy screenplay, to its intense moments of dialogue and surprise turns throughout each act, this is not a film to miss. Yes, I feel as though it may be about 10-15 minutes too long, but some of the greatest films of all time are nearly four hours and even those films feel unnecessarily long. Molly's Game is slightly drawn out, but it's a superb picture nonetheless. I loved my experience with this film and I highly recommend checking it out when it hits theatres.
Molly's Game Quotes
There are no approved quotes yet for this movie.
Discussion Forum
Discuss Molly's Game on our Movie forum!