Mommy
(1994)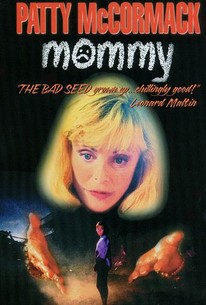 AUDIENCE SCORE
Critic Consensus: No consensus yet.
Movie Info
In this film, Patty McCormack plays a woman who is psychotically obsessed with her 12-year-old daughter Jessica -- so much so that when she finds out Jessica didn't get the "Student of the Year" award again, she solves the problem by murdering the teacher who didn't recommend her for it.
Critic Reviews for Mommy
There are no critic reviews yet for Mommy. Keep checking Rotten Tomatoes for updates!
Audience Reviews for Mommy
Melodrama about a psychotic serial-killing mother and her whiny, annoying daughter. The positives: Patty McCormack is EXTREMELY effective. She's genuinely creepy, scary, cold and horrific, turning in a solid performance. Brinke Stevens is adequate as her long-suffering, loyal sister who finally has enough. And... that's it. Everything else here is mediocre to bad. The quality of the film is reminiscent of something one might see on Lifetime from the same period. "Mommy" has a soap opera quality to it in everything from the acting to the photography, much of which is done in close-up. That works in moderation, particularly when it involves McCormack's genuinely menacing eyes, but not so much with anyone else in the film. The most egregiously bad thing here, though, is the performance of child actress Rachel Lemieux. She's annoying, whiny and flat at every turn... so much so that the viewer may be tempted to root for her crazy mother in the film's climactic junkyard scene. That itself features a terrible cop-out of an ending that also seems like it would be more at home in a soap opera than a psychological thriller/horror film. The other saving grace this flick has is some of the unintended humor that comes from a lack of internal consistency and continuity. Watch carefully as articles of clothing appear to change mid-scene, as blood stains appear and disappear, and as supposedly dead bodies change positions repeatedly between shots. Amazing! If you want to see an actress depicting a completely frightening psycho to perfection, check this flick out and fast-forward past any scene in which Patty McCormack isn't featured on screen. That's the only reason to bother with this one.
Brian Seitzman
as usual, i began drinking around 10am and decided to pop in "mommy" starring patty mac, the guy from "the exorcist," the original scream queen, and gene's wife, to name a few. and as usual, i highly recommend a well-mixed bloody mary for enhanced viewing pleasure. well, guess what? it works! not a bad little piece of cultish fun. just remember to sip every 15 minutes or so to keep the buzz going and have the remote handy for the much needed bathroom breaks, as this is a cute, silly, sarcastic bit of pulp cinema that just made my morning. the little girl is a bit stiff but hey, she's new and from iowa so we'll cut her some slack. patty is tons of fun in this "what if?" of rhoda penmark, and one can tell the janitor is probably way hot, but what's with the hat and hair? ick. all in all, a nice waste of a morning but at least i'm now drunk and entertained enough to go do my laundry. result: i recommend - watch with friends and consume mass quantities. wheee!
jonay dvorak
Mommy Quotes
There are no approved quotes yet for this movie.
Discussion Forum
Discuss Mommy on our Movie forum!