Mondo Cane
(1963)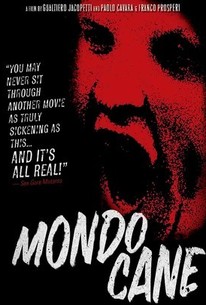 Movie Info
This shockumentary caused a stir when it was released in 1962 -- no one had seen anything quite like it before. But audiences need not have worried, this low-brow, disconnected series of clips on "savages" and "barbarians" (usually dark-skinned) who pierce their skin or their noses and do not bother to cover their breasts, would only get worse in sequel after sequel, through the 1970s. Purporting to show repulsive or erotic ritual practices and strange cultural customs from around the world, such as the slaughter of pigs in New Guinea or Asians who eat dog meat, or even the Hawaiian hula, this supposed documentary is nothing more than a series of unrelated, jarring film clips with commentary from a limited white male perspective.
Rating:
R (Mature Audiences Only)
Genre:
, ,
Directed By:
In Theaters:
On DVD:
Runtime:
Studio:
Critic Reviews for Mondo Cane
Audience Reviews for Mondo Cane
This "documentary" of us humans; our rituals, ceremonies, etc is interesting at parts but has very little purpose. The shocking moments are pretty tame in this day and age, the pacing is slow, and the whole concept just feels extremely forced. That being said, there are moments that shine, mainly in the filmmaking. The music is by far the best part and kind of carries the movie, also the cinematography is pretty sweet, there's definitely an abundance of cool shots and fascinating sequences, but this movie is so random and half-assedly jumbled together, that it feels the directors tried so hard to be super artsy instead of informative. Any way I spin it, the movie is definitively in a middle ground. It's not good, it's not bad, it's just kind of there and as these filmmakers have their "journey", I have my own to experience what movies have to offer. In the end, this one doesn't impress. PROS: Great soundtrack, interesting views of the world, cringe worthy moments CONS: Has no real purpose, very slow paced, convoluted
Rafiq Uddin
½
Love it or Hate it, I liked the fresh idea but disliked the commercial advertising of the film. It's interesting to learn about the mysticism in Italy
Sylvester Kuo
Super Reviewer
½
1962 "shockumentary" that's lost a little of it's pop over the years but still stands up as bizarre entertainment. The intent was to attract western audiences with an odd mix of unusual customs, cuisine, and curios. There's a woman suckling a piglet, a tribe that worships airplanes, people eating dogs, people eating snakes, sea turtles dying of radiation exposure, fishermen torturing sharks, the list goes on and on. It would be difficult, if not impossible, to make a film like this today (thanks to political correctness and PETA). How ironic that this film about oddities has become an oddity itself.
Randy Tippy
Super Reviewer
Discussion Forum
Discuss Mondo Cane on our Movie forum!