Mondo Cane
(1963)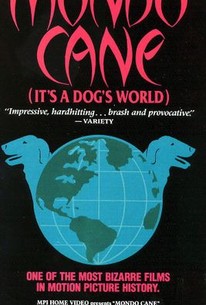 Movie Info
This shockumentary caused a stir when it was released in 1962 -- no one had seen anything quite like it before. But audiences need not have worried, this low-brow, disconnected series of clips on "savages" and "barbarians" (usually dark-skinned) who pierce their skin or their noses and do not bother to cover their breasts, would only get worse in sequel after sequel, through the 1970s. Purporting to show repulsive or erotic ritual practices and strange cultural customs from around the world, such as the slaughter of pigs in New Guinea or Asians who eat dog meat, or even the Hawaiian hula, this supposed documentary is nothing more than a series of unrelated, jarring film clips with commentary from a limited white male perspective.
Critic Reviews for Mondo Cane
All Critics (8) | Fresh (4) | Rotten (4) | DVD (1)
A quasi-documentary best remembered for the beautiful theme song "More."
March 31, 2006 | Rating: 3/5
average cinemagoers will be confused and bored, while shock seekers will come away deeply disappointed
May 31, 2004 | Rating: 2/5
The quintessential mondo film.
May 8, 2003 | Rating: 5/5
Audience Reviews for Mondo Cane
½
Love it or Hate it, I liked the fresh idea but disliked the commercial advertising of the film. It's interesting to learn about the mysticism in Italy
Sylvester Kuo
Super Reviewer
½
1962 "shockumentary" that's lost a little of it's pop over the years but still stands up as bizarre entertainment. The intent was to attract western audiences with an odd mix of unusual customs, cuisine, and curios. There's a woman suckling a piglet, a tribe that worships airplanes, people eating dogs, people eating snakes, sea turtles dying of radiation exposure, fishermen torturing sharks, the list goes on and on. It would be difficult, if not impossible, to make a film like this today (thanks to political correctness and PETA). How ironic that this film about oddities has become an oddity itself.
Randy Tippy
Super Reviewer
I hope I'm not sick for saying so but this film is really hilarious. I think it's a great comment on western society which is where all comedy of the film comes from. There are some astonishing things that happen in it too and it's a curiosity because of it's odd documentary 60s feel.
Patrick Dolan
Super Reviewer
Mondo Cane Quotes
There are no approved quotes yet for this movie.