Mondovino
(2005)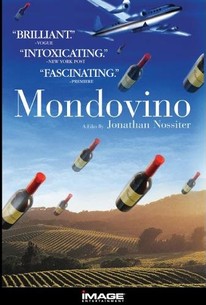 Movie Info
Documentary filmmaker Jonathan Nossiter focuses his camera on the international wine trade, traveling to France, California, Italy and New York and speaking with winemakers both great and small. While old-timer Aime Guibert, of tiny Mas de Daumas-Gassac, pronounces that wine must be made by a poet, high-powered consultant Michel Rolland circles the globe ensuring that wineries make lots of money. Nossiter meets the Mondavi family, other families and wine critics James Suckling and Robert Parker, whose words can make or break a vintage. Although Nossiter set out merely to find the characters behind the wine industry, he ended up with a poignant look at some important issues, including deforestation, the corporation versus the independent company and even communism. The result is an inside examination of a world very few people see.
Critic Reviews for Mondovino
Audience Reviews for Mondovino
Very entertaining documentary on the wine industry. Here we see alcohol's royalty. I have always been fascinated to learn of the Mondavi family in particular. Good work.
John Ballantine
Super Reviewer
½
I didn't find this film as engaging as it could have been. The thing I find most memorable about this film was the utterly atrocious camerawork and the puzzling editing: why leave in the footage of a servant interrupting the interview? The subject matter at the core is interesting, though: How, with the advent of globalization, big foreign wineries are buying [muscling] out family-owned ventures and the power that a handful of wine critics weild worldwide in wine consumption and production. I think that the filmmaking manages to cut through the fog of pretention that surrounds wine, but the characters themselves get mired and bogged down in it. I also think this movie's too long.
Emily Armstrong
Super Reviewer
[font=Century Gothic]"Mondovino" is a documentary about the global wine industry, specifically about the Mondavi vineyards' attempts to expand into Europe. The first attempt failed in France with help from the locals and the Commmunist mayor(further proof why more Communists should be elected to office) but later succeeded in Tuscany. What is at issue here is the danger of wines everywhere becoming uniform and losing their individuality because of consultants and critics forcing their tastes on everybody else. In the movie, this is referred to as globalization but I prefer the term corporatization.(In the film, one person compares this to a supermarket putting smaller stores out of business.)[/font] [font=Century Gothic][/font] [font=Century Gothic]"Mondovino" is an informative film which does touch on some important issues but also could have been helped by a narrator to assist those of us uninitiated across three continents. It does not help that the movie is filmed by someone who was apparently more interested in filming dogs than human beings.(Bonus points for including a Basset Hound, though.)[/font]
Mondovino Quotes
There are no approved quotes yet for this movie.