The Money Trap
(1966)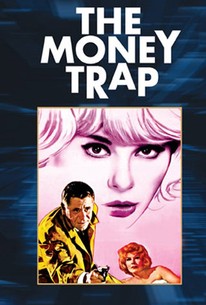 AUDIENCE SCORE
Critic Consensus: No consensus yet.
Movie Info
In this well-regarded film noir thriller, Joe Barron (Glenn Ford) is a police detective whose wife Lisa (Elke Sommer) has inherited a stock portfolio from her father. Joe and Lisa go on a spending spree, but when their new holdings fail to pay dividends, Joe finds himself deep in debt. Dr. Horace Van Tilden (Joseph Cotten), a rich doctor who caters to high-society clientele, shoots an intruder in his home, and Joe is assigned to investigate; Joe discovers that Van Tilden has a lucrative sideline selling drugs, and that the shooting victim was actually an addict looking for dope. When Joe learns that Van Tilden keeps his drug money in a safe at home, he sees a way to finally pay off his debts, but his partner, Pete Delanos (Ricardo Montalban), gets wind of Joe's scheme and demands a cut of the action. Matters become more complicated for Joe when he learns that the man Van Tilden shot was married to Rosalie (Rita Hayworth), whom he loved many years ago. The Money Trap was directed by Burt Kennedy, who was best known for his witty and unconventional westerns.
Audience Reviews for The Money Trap
½
Glenn Ford bed-hopping detective? Well yes, but only between his current wife and ex-girlfriend of long ago. It is so out of character to see Ford as a romantic type, but true to form he is still the victim of circumstances. Slow paced crime drama but well done. B&W. [img]http://ts4.mm.bing.net/th?id=H.4840111283897603&pid=1.7&w=265&h=188&c=7&rs=1[/img] As the title so aptly describes this film, The Money Trap is about financial problems driving unlikely people to desperate measures. Glenn Ford becomes seduced by quick millions to be gotten but for me the film did not emphasize his debt or financial worries enough to warrent his actions. [img]http://ts2.mm.bing.net/th?id=H.4886269312370585&pid=1.7&w=256&h=119&c=7&rs=1[/img] Plot Joe Baron is a cop with financial troubles because of his wife Lisa's constant spending. One day, a burglar is reported shot at the home of a doctor. But upon investigating, Baron gets to know the dead burglar's alcoholic wife, Rosalie, and becomes aware that the doctor, Horace Van Tilden, is the head of an illegal drug syndicate. Stars James Mitchum (Robert Mitchum's brother) among many other veteran actors. [img]http://ts3.mm.bing.net/th?id=H.4736825904595642&pid=1.7&w=226&h=128&c=7&rs=1[/img] REVIEWS: 30% dull, boring, and forgettable are the best three words to describe how i felt about "the money trap". SEE the entire film here: http://www.youtube.com/watch?v=ke_4hBR7ZhI&playnext=1&list=PLDA7E0E2D1353026A [img]http://ts2.mm.bing.net/th?id=H.4968797073441085&pid=1.7&w=226&h=128&c=7&rs=1[/img] Cast Glenn Ford as Joe Baron Elke Sommer as Lisa Rita Hayworth as Rosalie Ricardo Montalban as Pete Delanos Joseph Cotten as Dr. Van Tilden James Mitchum as Detective Wolski Tom Reese as Matthews Fred Essleras Mr.Klein Eugene Iglesias as Father Teri Lynn Sandoval as Daughter Argentina Brunetti as Aunt CREW: Burt Kennedy - Director, John MacSweeney, Hal Schaefer Composer (Music Score), William J. Tuttle - Makeup, Paul Vogel - Cinematographer, Max E. Youngstein - Producer, Robert R. Benton - Set Designer, Henry W. Grace - Set Designer, Walter Bernstein - Screenwriter Lionel White - Book Author Distributed by Metro-Goldwyn-Mayer (MGM) Release date(s) 1965 Running time 91 mins. [img]http://ts1.mm.bing.net/th?id=H.4942958524301504&pid=1.7&w=261&h=183&c=7&rs=1[/img]
monsieur rick
½
Stylish, quasi-mod police procedural featuring a very young and exquisite Elke Sommer. Rita Hayworth and Glen Ford look tired... centuries from their "Gilda" performances.
Carlos Fonseca
The Money Trap Quotes
There are no approved quotes yet for this movie.
Discussion Forum
Discuss The Money Trap on our Movie forum!