The Lost Empire
(2001)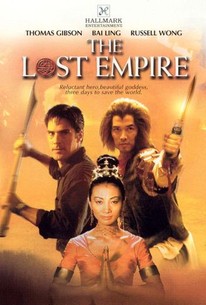 AUDIENCE SCORE
Critic Consensus: No consensus yet.
Movie Info
The two-part TV miniseries The Lost Empire was loosely based upon Chang-En Wu's classic 16th century Chinese novel, His Yu Chi (Journey to the West). Updated to the present, the series was set in motion when American journalist Nick Orton (Thomas Gibson) agreed to track down the lost manuscript of Chang-En Wu's masterpiece, which had fallen into the proverbial wrong hands. Accompanied by a curious collection of mythical creatures, including the Monkey King (Russell Wong), a piglike human and a former cannibal, Nick found himself fighting evil and sorcery at every turn, secure in the knowledge that he would win the love of Kwan Ying (Bai Ling), the Goddess of Mercy, if he successfully completed his mission. Filmed partially in Prague by Hallmark Entertainment, The Lost Empire (later released to video as a 132-minute feature titled The Monkey King) was broadcast by NBC on March 11 and 12, 2001.
Critic Reviews for The Lost Empire
There are no critic reviews yet for The Lost Empire. Keep checking Rotten Tomatoes for updates!
Audience Reviews for The Lost Empire
½
I very much enjoyed this film. I haven't had much background as far as the "Monkey King", other than the Japanese series when it was being broadcast in the U.K. (Under the appropriate title "Monkey"). Still, I kind of was aware of the characters, and liked their appearance in this flick. One thing I didn't care for was the length, which was no doubt easier to handle during it's television broadcast. Also, towards the end shortly after the scene shifts to the modern day. I think if you give it a chance, you'd like this.
Francis LaLonde
½
This was a failed attempt to modernized a traditional Chinese folklore. First off, where did the producers of the film came up with the idea of adding a Caucasian character to the field of Chinese characters and elements? Like what, were they trying to Americanized the story or something? Though the story wasn't half bad, I was a hoping it kept the Chinese mythologies and flare. Plus, I remembered there were a lot of Buddhist undertones in the original story, but it seemed this film downplayed it, and that was so disappointing. The film's cast was alright, nothing to rave about. The visuals and art direction was fine too, but it wasn't unique or on par with other Hallmark Entertainment offerings. Overall, the film was enjoyable, to an extent, but failed to keep the Chinese elements of the story.
Robert Thach
This is real comical, but outragious tale, but well worth the time and enjoyment. lacks a few simplistic scenarios, but well done....
Tom Hakes
The Lost Empire Quotes
There are no approved quotes yet for this movie.
Discussion Forum
Discuss The Lost Empire on our Movie forum!