The Monkey's Uncle
(1965)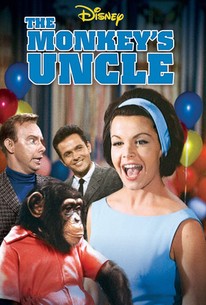 AUDIENCE SCORE
Critic Consensus: No consensus yet.
Movie Info
Midvale College is in fear of losing it's college football team. The players have grades lower than the norm. Judge Holmesby, the team's biggest fan, is at a loss for what to do. Enter Merlin Jones, a bright college student, and his nephew Stanley, an intelligent chimpanzee. The judge wants Merlin to create an "honest way to cheat". Merlin uses "sleep learning" to help the players pass their exams. This saves the college football program from being banished, but not for long... the college is tempted to receive a $1 million dollar check from a Mr. Astorbilt. The catch is though the college must get rid of football. Judge Holmesby finds Darius Green III, who will pay $10 million dollars to the college if they can get a man to fly under his own power. The task is in Merlin's hands again. Can Merlin win the day and save the football team?
Audience Reviews for The Monkey's Uncle
Tommy Kirk and Annette Funicello are back with more Disney fun in a sequel that picks up right where The Misadventures of Merlin Jones left off. Annette sings the title song with the Beach Boys! It will please classic Disney enthusiasts. (First viewing - 1/29/2010)
Adam R
*1/2 (out of four) The sequel to The Misadventures of Merlin Jones is an episodic mess that seems more like two or three sitcoms episodes thrown together into a full legnth film. Tommy Kirk is back as the smartest kid at Midvale College. This time he is chosen by one of the regents to find a way to help the football players to pass their classes so they can play. The academic minded people are portrayed as the villains here because they feel that the classroom is more important than touchdowns. This boring gagfest is lame even for Disney standards of the time. There are missed opportunities throughout. The film's very best moment happens at the very start when Annette Funicello performs with the Beach Boys in front of classmates. It is downhill from there.
Steve Smith
It was ok, mainly because I get a kick out of chimps. As an aside, this was Tommy Kirk's last Disney movie.
Andy Graham
The Monkey's Uncle Quotes
There are no approved quotes yet for this movie.
Discussion Forum
Discuss The Monkey's Uncle on our Movie forum!