Monsieur Vincent
(1947)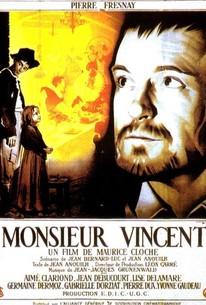 AUDIENCE SCORE
Critic Consensus: No consensus yet.
Movie Info
Pierre Fresnay stars as St. Vincent De Paul in this reverent but realistic French biopic. The film traces "Monsieur Vincent's" progress from his days of forced servitude in Algiers to his entry into the priesthood, culminating with his Herculean efforts on behalf of the ill and destitute in early 17th-century France. Featured in the huge cast are Aime Clairimond as Cardinal de Richelieu and Germaine Dermoz as Queen Anne of Austria. Made under the most trying of conditions over a two-year period, Monsieur Vincent remains the chef d'ouevre of director Maurice Cloche. The film won France's Grand Prix award in 1947, and the following year was honored with Hollywood's "best foreign picture" Oscar.
Rating:
NR
Genre:
,
Directed By:
Written By:
In Theaters:
On DVD:
Runtime:
Studio:
EDIC
Critic Reviews for Monsieur Vincent
All Critics (2) | Fresh (2) | Rotten (0)
Set in the 17th century, this French bio-drama, which won the 1948 Best Foreign Language Oscar, revolves around a man who devoted his life to the poor and was canonized by the church.

Maurice Cloche's beautifully crafted, award-winning biopic of St. Vincent de Paul celebrates the saint's single-minded devotion to the poor.

Audience Reviews for Monsieur Vincent
½
Released in France (1947) and the recipient of an honorary Academy Award in 1949 (Foreign Language Film), this picture, widely considered Maurice Cloche's best, has been praised for over a half-century -- it's included on the Vatican Best Films List -- but perhaps too highly. A well-acted film, and an occasionally gorgeous one, "Monsieur Vincent" would, I'm sure, greatly benefit from the technical and conceptual advancements that followed its debut. Where it's compelling, and even slightly inspirational, it broadens its scope to encompass too many places in too many instances whilst executing at a brisk 114-min. pace. This leaves all but the title character misplaced in memory and significance by the moment of the movie's quiet, almost redeeming final frame. Pierre Fresnay portrays real-life seventeenth century figure Saint Vincent de Paul, who, in 1617 (according to the title card shown on screen), travels to the tiny French village of Châtillon, where the townspeople have boarded up the house of a sick woman they believe to have the Black Death. Appointed the town's new priest, Monsieur Vincent visits the woman to the disgust of others, discovering that she was not sick with the Plague but had rather died of starvation, locked in her home. Furious with the insolence of the townsfolk, he gives the woman a proper burial and delivers her young daughter, whom he found hiding and near-death, to a family willing to care for her. This act of graciousness sparks interest in the citizens of Châtillon, slowly igniting a surge of benevolent and charitable work in the community. And this is where the movie slides away. After setting up a foundation on which to continue a wonderful story of humanitarianism, with small characters we assumed we'd learn more of, de Paul switches locations, to a poor region of Paris, at the recommendation of Queen Anne (whom he had previously advised, then left for Châtillon), who consequently agreed to support his service work financially and, eventually, physically. Considering the vast realm of public service Vincent de Paul provided during is lifetime, it's not hard for me to understand why the film skipped around so much (it also depicted de Paul in 1640, 1645, 1650, 1655, and, lastly, 1660). But the fact that it did took away from its poignancy, which would have struck with greater force had "Vincent" been more explicitly focused. Though, as there were several aspects I wished had been done differently, there were a few unconventional techniques that really caught my attention and fancy. For example, during a scene in which the priest speaks to a rich man of Châtillon while healing the leg wound the man suffered from a fencing match, the camera embraces the point-of-view of the man to whom de Paul is speaking, so that it appears that the audience is being directly spoken to. As the man complains that the village's poor won't pay him their taxes, Monsieur Vincent tells him of the woman who adopted the young girl he saved, and how that woman already had five kids of her own, no husband, and was the poorest member of the community. The sacrifice the woman made is the point of de Paul's monologue, and the filming angle brilliantly allows the moral to be addressed to viewers in a relatively personal way, and without being off-putting. "Monsieur Vincent" is a standout religious tale, made all the more powerful by its truth and incomparable understanding of the poor and, more noticeably, treating and serving them. Written by Jean Anouilh and Jean Bernard-Luc, the film is also very funny -- sometimes intentionally, other times unintentionally (those silly ol' French). It scrutinizes the ever-present attitude of most everyone in regards to missionary work that sets them apart from saints -- humanitarians devote time and wealth to a cause so long as it doesn't threaten their lives too gravely, while saints devote their entire lives to a cause (or more), expecting to have nothing as a result. Yet, as mentioned earlier, no matter the insight or uplift or sincerity or message, Vincent can't overcome its expansiveness to touch greatness. Maybe if it were an hour or two longer it would.
Nick Anno
½
the best 'feel good' movie i've seen since 'it's a wonderful life.' an incredibly moving true story about vincent de paul's bravery in breaking through the taboo of helping the less fortunate - among both nobility and the poor themselves. the film is filled with wonderfully understated scenes that speak volumes; such as the wordless scene when an innkeeper's daughter brings water to de paul's room and smiles just a little too much, revealing, to his horror, the inn's true source of income. or the young nurse who open-heartedly comes to de paul's aid immediately after he's fled a disgusting, rich, chatty ladies 'charity.' the film explores not only the philosophy of the man, but the sequence of events that led him to those beliefs. pierre fresnay's performance is pitch perfect. he succeeds in shaming not just the other characters in the film, but the audience itself (it brought me to sobs). the film makes one feel very fortunate that we are no longer living during the black plague - but also highlights universal attitudes about poverty, crime, and sin that persist in every period.
Joe LaRue
½
This movie put a lump in my throat by the end because you really become close to this generous generous man. The movie gives you lots to think about. One idea particularly stuck with me- Monsieur de Paul has just realized some truths about the lives of the poor he has vowed to help and goes to a younger fellow priest to enlist his assistance. Monsieur de Paul says (in French with English subtitles so I paraphrase), "You can't worry about saving the souls of the poor. You have to help them live a life worthy of a soul first." That's profound to me! Compassion and pity are not the same and Monsieur Vincent struggles with feeling pity quite a bit it seems. However, you can't help thinking that this man, who served the poor, sick, and abandoned, started something worthwhile! Claude Renoir was the cinematographer. Other than him, there are not too many people in the cast and crew who became very well known outside of France. Still it is a very special film that is not by one of the famous auteurs.
Byron Brubaker
Super Reviewer
Monsieur Vincent Quotes
There are no approved quotes yet for this movie.