Monster
(1980)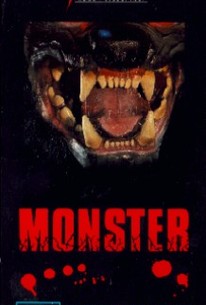 AUDIENCE SCORE
Critic Consensus: No consensus yet.
Movie Info
A Colombian village is terrorized by a hideous monster. (AKA Monster)
Critic Reviews for Monster
There are no critic reviews yet for Monster. Keep checking Rotten Tomatoes for updates!
Audience Reviews for Monster
[size=5][b]Cocktail[/b][/size] Directed by: Rodger Donaldson [img]http://www.sineport.com/poster/eski/cocktail.jpg[/img] So wait, let me get this straight, Tom Cruise plays a cocky young punk who has to learn an important life lesson?!?! Who EVER would have thought to put Tom Cruise in a roll like that? Actually, with the possible exception of "Legend" and the "Mission Impossible" movies, I think that fits EVERY roll he's ever played, with varying degrees of 'young' of course. Anyhow, this is the last 80's cheese Tom Cruise movies I have to see. It's actually not a bad film. It starts out being the kind of gleeful hedonism I expected, but it had some surprisingly bleak themes and twists that I really didn't expect. Elizabeth Shue has always been an amazingly attractive young woman (not so young anymore, but then), and she was really hot here. I especially liked the "Waterfall Makeout" scene. I liked how she took her baithing suit off under water...hubba hubba. Anyhow, not a great film, but it delivers on what it promises, as well as going above and beyond enough to make this a worthwhile experience. [size=4][i] 7.0[/i][/size] [size=5][b]Monster[/b][/size] Directed by: Kenneth Hartford Not to be confused with the very overpraised, but still halfway decent Charleze Theron/Christina Ricci film, this silly 'horror' movie is, by far, the most likely candidate for MST3K that I've ever seen. It's not scary, you can't really see what's going on half the time because they filmed in the dark with bad equippment, the acting is non-existent. It's about a monster in a lake in a small Colombian villiage. I usually put the images before I say anything. Anyhow, here is the only images of the movie I could find: [img]http://www.badmovies.org/movies/monster/monster4.jpg[/img] [img]http://www.badmovies.org/movies/monster/monster3.jpg[/img] Yes, that is what the monster in the movie looks like. It's hard to be mad at a movie like this, I finished watching (over the course of several days, 20 minutes at a time) just because it was so hilariously bad, it was kind of fun to see what they would do next. Seriously, if MST3K does another movie, this is the perfect candidate. [size=4][i]1.0[/i][/size] I give it a 1.0 because I kind of liked the parts where A. The 12 year old kids (it seemed to me) ran around in the dark, looking for the monster, as opposed to doing what sensible kids would do, make out. B. They blew up the monster and had monster guts everywhere at the end. [size=5][b] The Prisoner of Zenda[/b][/size] Directed by: John Cromwell [img]http://www.libertyfilmfestival.com/libertas/wp-content/Prisoner_of_Zenda_%281937%29.jpg[/img] This excellent retelling of the classic story features strong performances all around, and excellent directing by John Cromwell, who also did "Abe Lincoln in Illinois", which is an excellent, very underseen/underrated film. Anyhow, I still hate most of the music from American films of this era, but other then that, this film is quite good, if not quite great. Good sets, excellent actin, and the incomprable Raymond Massey! What can you lose? Well worth a look. [size=4][i]8.0[/i][/size]
Cliff Smith
Monster Quotes
There are no approved quotes yet for this movie.
Discussion Forum
Discuss Monster on our Movie forum!