The Monster Walks
(1932)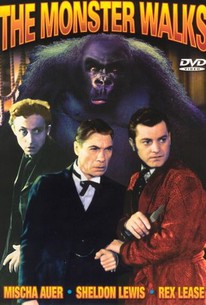 AUDIENCE SCORE
Critic Consensus: No consensus yet.
Movie Info
It is difficult to believe that this ultra-cheapie ever actually scared anyone; it's just possible that audiences laughed as loudly at the film in 1932 as they do today. On a dark and stormy night, Hero and heroine Rex Lease and Vera Reynolds head to Reynolds's ancestral mansion to claim her inheritance. Everyone in the house takes great delight in informing the girl that her scientist father died suddenly (the word is repeated at least 20 times in the first two reels). Soon our heroine discovers that she, too, has been marked for death by her maniacal uncle Sheldon Lewis, who is using his deranged son Micha Auer, Auer's housekeeper-mother Martha Mattox, and a huge and surly ape as his vessels of wrath. The climax finds Auer binding Reynolds to a post as he exhorts the ape to tear her apart; unfortunately for him, the big beast chooses to rend the villains asunder. Black comedian Willie Best (here billed as Sleep 'N'Eat) is supposed to be the comedy relief, but Mischa Auer is heaps funnier unintentionally.
Critic Reviews for The Monster Walks
There are no critic reviews yet for The Monster Walks. Keep checking Rotten Tomatoes for updates!
Audience Reviews for The Monster Walks
½
A man who owns a gorilla dies, and family assembles in the creaky mansion to read his will. They start dying too: did the primate do it? It's OLD DARK HOUSE with an ape. Fainting heroines, killer monkeys, and cowardly black comic relief servants: this is what they had to put up with before DRACULA and FRANKENSTEIN.
½
This Movie is from a Lon Chaney Collection, why I have no idea because he doesn't appear in this movie, think its Mill CVreeks way of filling in a cheap movie. The Monster Walks" is a very old and very cheap haunted-house mystery thriller without much mystery. Yet, considering the budget and the experience cast & crew members disposed of, this probably isn't such a bad movie after all. I'm sure that fans of early horror films will definitely detect a lot of charm and goodwill in this typical story about a wealthy daughter that is targeted for murder upon returning to her parental house for the regulation of her dead father's inheritance. Ruth has always been petrified by her father's pet-ape and, although safely caged in the basement, some malicious persons uses the animal to scare her senseless. Rex Lease is her all-knowing doctor/boyfriend who investigates the strange nightly events and eventually reveals the true culprit. Maybe the plot-twists would have intrigued me more if the actual climax wasn't stupidly mentioned on the DVD-box, but I still can't say the script is very complex or effectively misleading. There are one or two decent suspense-moments but overall this is a dull and unexciting poverty row movie. All the lovely clichés of 30's horror cinema are there, though, like the exaggeratedly polite servants, the seemly endless thunderstorm outside the castle and the black chauffeur-guy who simultaneously serves as the comic relief. This is an okay film as long as you don't expect to see another "The Old Dark House. 2 1/2 Stars 6-19-13
Bruce Bruce
Super Reviewer
½
Another scary ape (not gorilla) horror flick. This one does have a bit of Gothic atmosphere because it takes place on a dark and stormy night and perhaps the cinematographer's German roots show themselves. By the end the audience should solve the mystery before the characters, but throughout the brief single hour the mystery is an adequate one. Mr. Earlton has passed away and his family and servants wait to hear his will. He kept an ape in the house for years, but it is caged in the basement now. This time there is no man in a monkey suit. Mr. Wilkes (Bracey) is the dim-witted lawyer of the Earlton estate. Earlton's brother Robert, who has been paralyzed for about a year, is played well by Sheldon Lewis. Vera Reynolds is Ruth, the late Mr. Earlton's daughter. She brings her doctor fiance to her family's old house. Rex Lease is Dr. Clayton, the practical, polite and inquisitive hero. The doctor has a black chauffeur, who provides some comic relief (mostly of the racial stereotype variety). Willie Best sadly was credited as Sleep 'n Eat. Martha Mattox plays the stern German house keeper Mrs. Krug. And Mischa Auer plays her lanky son Hanns. His performance reminded me of Max Schreck's Nosferatu, but it got to be silly the way all the characters pronounced his name like "hands." So Ruth gets the inheritance, some characters evidently have deep secrets, and there is a limited number of suspects in a household filled with peepholes behind pictures and secret passageways. If it was longer, it might start to get unbearable, but I didn't regret it taking an hour of my time.
Byron Brubaker
Super Reviewer
The Monster Walks Quotes
There are no approved quotes yet for this movie.