Monty Python's Life of Brian
(1979)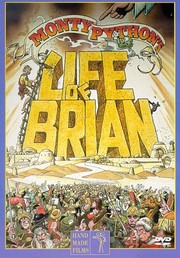 TOMATOMETER
AUDIENCE SCORE
Critic Consensus: One of the more cutting=edge films of the 1970s, this religious farce from the classic comedy troupe is as poignant as it is funny and satirical.
Tickets & Showtimes
Monty Python's Life of Brian Trailers & Photos
Movie Info
Monty Python delivers the group's sharpest and smartest satire of both religion and Hollywood's epic films. Set in 33 A.D. Judea where the exasperated Romans try to impose order, it is a time of chaos and change with no shortage of messiahs and followers willing to believe them. At it's center is Brian Cohen, born in Bethlehem in a stable next door, who, by a series of absurd circumstances is caught up in the new religion and reluctantly mistaken for the promised messiah, providing ample opportunity for the entire ensemble (Graham Chapman, John Cleese, Terry Gilliam, Eric Idle, Terry Jones and Michael Palin) to shine in multiple roles as they question everyone and everything from ex-lepers, Pontius Pilate and haggling to revolutionaries, crazy prophets, religious fanaticism, Roman centurions and crucifixion, forever changing our biblical view.
more
Watch it now
Cast
News & Interviews for Monty Python's Life of Brian
Critic Reviews for Monty Python's Life of Brian
Audience Reviews for Monty Python's Life of Brian
½
Life of Brian is a very funny film from Monty Python. I've seen all their films, and each are special in their own way. With this one, they really pulled off something highly entertaining and hilarious. Everyone one here brings something truly memorable to the screen, and with its plot, is a fine parody that generates lots of laughs. The film has plenty of great moments that really stand out. Monty Python are terrific comedians, and they deliver a film that is very funny from start to finish. If you loved every other film that Monty Python picture, you're sure to enjoy this one. I thought that this film was well crafted and definitely delivered on its ideas. The film is a comedy classic, and it's one of those films that any film fan should watch. Monty Python always had that eccentric touch to their humor and they pull off another great movie with Life of Brian. If you this sort of humor, you're sure to enjoy this comedy, and it is a highly memorable picture that is lots of fun due to a well written script, hilarious dialogue and top-notch performances from the troupe. Life of Brian ranks there as one of the finest comedies ever made. The humor is intelligent, hilarious and unforgettable. I think that this is one of those genre films that is much better than most comedies nowadays because this had better humor, while today's comedies tend to be pretty bland in terms of jokes. If you're looking for a film that has some very good jokes, and then check this film out, one of Monty Python's best. Life of Brian succeeds where many other comedies fail, this is a comedy classic that delivers the laughs and boasts a great story as well. Where can you go wrong?
½
It's not just a incredible satire to the fanatic religious people, but a masterpiece of the british cinema and comedy. Life of Brian is poignant, contoversial and entertaining "biblical" comedy and, of course an obligatory film to Monty Pyhton fans and English humor.
Monty Python's Life of Brian Quotes
Pontius Pilate: Wait until Biggus Dickus hears of this!
Mrs. Gregory: Oh! It's blessed are the meek! I'm glad they're getting something, they had a hell of a time...
Brian Called Brian: Hello, Mother.
Mandy: Don't you 'hello mother' me! What're all those people doing out there? C'mon, what've you been up to, my lad?
Brian Called Brian: I think they must've popped by, or something.
Mandy: Popped by? Swarmed by, more like! There's a multitude out there!
Person: I think it was 'Blessed are the cheesemakers.'
Mrs. Gregory: What's so special about the cheesemakers?
Man: Well, obviously it's not meant to be taken literally; it refers to any manufacturers of dairy products.
Discussion Forum
Discuss Monty Python's Life of Brian on our Movie forum!
News & Features