Moonfleet
(1955)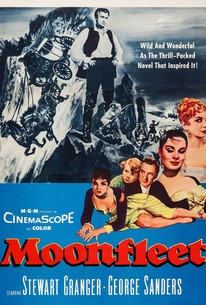 Movie Info
In the 1750s, young orphan John Mohune (Jon Whiteley) arrives at the seaside Dorset village of Moonfleet seeking Jeremy Fox (Stewart Granger), a one-time "friend" of his late mother, to whom she has turned over care of the boy. Fox exudes an aura of class and bravado, along with an obvious love of life and the finer things it can offer, all of which combine to make him a beguiling presence to one and all, including the larcenous, decadent local nobility (George Sanders) and a band of cut-throats led by Elzevir Block (Sean McClory), to whom he has more than a passing acquaintance. In his innocence, John -- oblivious to the fact that Jeremy runs a murderous smuggling ring -- instantly accepts this man as a loyal friend (and, indeed, a man to be loved and trusted like a parent, precisely because his mother has consigned him to his care). And Jeremy, initially disdainful of the boy, finds himself moved by the latter's willingness to love him and see his better nature, which does come out (with some resistance) under his coaxing, and reluctantly becomes his guardian. But there are too many nefarious goings on in and around Moonfleet, between smugglers and the authorities pursuing them, and the Mohune family's dark history, to keep John safe from danger. His life is placed at risk when he stumbles on the secret of old "Redbeard," the Mohune patriarch who betrayed law and morality, selling his soul for a priceless diamond, which has long been believed lost. Before long, young John knows too much about the smugglers for their comfort, despite Jeremy's protection -- and when he accidentally discovers a clue to the location of Redbeard's diamond, even Jeremy can't resist the chance for that prize, even if he has to cheat the boy out of his birthright.
Rating:
NR
Genre:
,
Directed By:
Written By:
In Theaters:
On DVD:
Runtime:
Studio:
Warner Bros. Classics
Critic Reviews for Moonfleet
Audience Reviews for Moonfleet
½
much better than i was led to believe, certainly superior to hitchcock's 'jamaica inn' which i've never managed to finish
Stella Dallas
Super Reviewer
A decent adventure tale, dragged down by the lack of a compelling central character. Jon Whiteley as the Dickensian child is pretty much empty as a character, and Stewart Granger just doesn't have seem to have any leading man chops. I wish there'd been more of George Sanders, who's always a delight. The color widescreen photography provides a few striking moments, but more often it's awash in dreary shades of brown. I also found the movie slightly confusing at times, as the relationships between some of the main characters were murky. Overall, it's passable as "brain off" entertainment, but not much more than that. Another disappointment from Lang's later career.
Martin Teller
½
It's very telling that the reviews of this film are in French. Moonfleet has a great reputation abroad for its expressionistic visuals and doubled narrative structure -- simultaneously capturing the child's and the adult's points of view. The film struck me as sort of slow and foolish the first time I saw it, but I've come around. It's gorgeous, deceptively complex and very memorable. Like a Stevenson novel, it smuggles depths in under the guise of swashbuckling fun. Atypically hopeful and charming for Lang. See it a couple times.
Will Miller
Moonfleet Quotes
There are no approved quotes yet for this movie.
Discussion Forum
Discuss Moonfleet on our Movie forum!