Mor gwai tin si (Lethal Angels) (Naked Avengers)
(2006)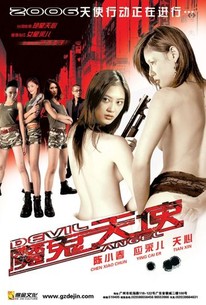 AUDIENCE SCORE
Critic Consensus: No consensus yet.
Movie Info
Jordan Chan, Cherrie Young, and Tien Hsin star in this erotic action film that sent Chinese censors up in arms thanks to a scintillating combination of scantily clad beauties and non-stop gunplay. ~ Jason Buchanan, Rovi
Critic Reviews for Mor gwai tin si (Lethal Angels) (Naked Avengers)
There are no critic reviews yet for Mor gwai tin si (Lethal Angels) (Naked Avengers). Keep checking Rotten Tomatoes for updates!
Audience Reviews for Mor gwai tin si (Lethal Angels) (Naked Avengers)
½
mish mosh story about revenge and a hit squad charlie angel type gang except with asian women serving as the killers. Too much slow motion fighting and the film tries to develop a romantic angle which dillutes from the main storyline. Jordan Chan acts strange in this movie; either his heart was not into it or he was on some medication? Either way, it does have some entertainment value, but this is far from an action classic.
Naked Weapon 2? That title would have been appropriate. I'm actually surprised that the director for this film isn't the same director as the one who created Naked Weapon, because that is exactly what this film is. Picture Naked Weapon with a thinner plot, less action, and less beautiful women. Voila, Lethal Angels.
As previously noted, the plot is rubbish. The sad part is that the thin plot doesn't even begin to take shape until after the first 20 minutes or so. The beginning of this film is basically beautiful women attracting guys before killing them. That is the basic concept for this film. As far as character development is concerned you get some of that for the main character played by Tien Hsin, but that is pretty much it. Andy On also gets some minimal development even though he also gets minimal airtime. Fortunately for this film, it moves pretty quickly so the poor story isn't as bad as it possibly could be if it dragged on.
The "Lethal Angels" are beautiful, as they should be, but you don't get a whole lot of nudity as you may come to expect. Similarly to Naked Weapon, the only nudity comes in the very beginning. If you want to see cute girls showing their stuff, don't watch this film. Watch an adult video.
Once again, don't watch this if you are looking for some kick-ass action. There is very little action and for the most part it isn't all that great. The film throws in a couple small fights for the finale and they only show up as decent. When I say decent, I mean decent for this film. When compared with other action moves, they are not so hot.
The acting is probably the best part of this film, other than the cute girls. The lead, Tien Hsin, does an alright job while Jordan chan is OK when he is not annoying.
When all is said and done, try to stay away from this unless you want to see pretty females on screen. There should be no other reason to watch this film. Actually, if you loved Naked Weapon, then that could be another reason.
Mor gwai tin si (Lethal Angels) (Naked Avengers) Quotes
There are no approved quotes yet for this movie.
Discussion Forum
Discuss Mor gwai tin si (Lethal Angels) (Naked Avengers) on our Movie forum!