More Dead Than Alive
(1969)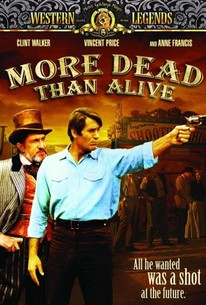 AUDIENCE SCORE
Critic Consensus: No consensus yet.
Movie Info
Cain (Clint Walker), better known throughout the West as "Killer Cain," is released from prison in 1891, after serving 18 years for killing a man, one of over a dozen lives that he'd taken from the age of 16. But he finds that his penalty is hardly paid and his punishment hardly over, even though he's truly reformed and wants no trouble. He's unable to get away from his past, even though the Old West is fading fast in the face of civilization -- in fact, the fading of the West is making matters worse, as ordinary folks are mostly scared of and curious about him. Additionally, he still has enemies all around, who will give him no peace; and to top it off, the only man willing to give him any kind of a job is Dan Ruffalo (Vincent Price), operator of a Wild West show, as a sharpshooter. It turns out that Cain isn't even that perfect a shot anymore, but Cain still becomes the show's biggest attraction, because people will pay to see -- or say they saw -- a killer, and that upsets young Billy (Paul Hampton), Ruffalo's other sharpshooter, who never misses but has also never killed a man either. Billy is a lot more frightening to Cain than Cain could ever be to Billy, because Billy turns out to be a psychopath. Adding to his troubles is the presence of Luke Santee (Mike Henry), a killer with his own score to settle with Cain, as well as Karma (Craig Littler), a mysterious lawyer who's been looking for him. Cain and Billy seem headed for a collision sooner or later, even as Cain tries to find peace in the company of Monica Alton (Anne Francis), an artist from the East who loves him, and who has come out West to make a new life for herself. ~ Bruce Eder, Rovi
Critic Reviews for More Dead Than Alive
There are no critic reviews yet for More Dead Than Alive. Keep checking Rotten Tomatoes for updates!
Audience Reviews for More Dead Than Alive
Oh, I hate westerns, but at least Vincent Price has a better role than his last western. The story is familiar and predictable, so there's really not much point in watching this. I didn't like this movie.
Synopsis: Cain (Clint Walker) is an ex-con looking to make an honest living. Unable to escape his past as Killer Cain, he is enlisted by Ruffalo (Vincent Price) to join his traveling Wild West Shooting Show and accept his past. PROS Great Story Price's Performance Good Direction Strong Acting Nice Blood Squibs CONS A Little Slow The Score/Music FINAL ANALYSIS: This is an odd western, in as much, it is short on action and long on drama. Clint Walker delivers a strong performance as a man who wants to divorce himself from his past and move forward from his criminal past. However, the world will only see him as Killer Cain. Desperate to earn a living Cain turns to Ruffalo to take a job in his traveling shooting show. The tension in this movie is created by Cain and the Trick Shot, Billy, already in the sideshow and by Cain's past transgressions confronting him as they travel town to town. Vincent Price delivers one of his best performances in this film. As well, the Kid, Billy, delivers a wickedly unhinged performance. This was a fantastic forgotten gem which delivers some genre defying twist and turns and eschews gunfights and focuses on the human condition that the violence effects. A REALLY GOOD FILM
Daniel Bautz
Never holster an empty gun An old country boy who grew-up when times were hard in the Wild West has served his time for killing a man, and after 18 hard years in jail, wishes to settle down and live a respectable life. A female artist points the man in the right direction, but some how, he keeps getting pulled in to gun shows to earn a living. While the living is respectable, and a source of income, the lifestyle reminds him of what he used to be rather than what he wishes to become. Will the country boy reach his dreams or will his old lifestyle continue to haunt him? "Did he get him?" "Does an outhouse stink?" Robert Sparr, director of Once You Kiss a Stranger, A Swingin' Summer, and numerous episodes in various television series, delivers More Dead than Alive. The storyline for this picture is compelling and well delivered. The subplots and supporting characters were well portrayed. The acting was solid and the cast included Clint Walker (Dirty Dozen), Vincent Price, Anne Francis (Forbidden Planet), and Paul Hampton (Senior Prom). "Hurry it up, fat boy. I'm going to have a steak in hell for dinner." I was searching for movies to DVR over the weekend and was in the mood to catch some Vincent Price pictures (I occasionally get those cravings). Nevertheless, I came across this western and could not remember ever seeing a Vincent Price in a western. I was pleasantly surprised at how well he fit into this setting. While Clint Walker stole the show, the entire cast delivered splendid performances. The conclusion was marvelous and well delivered. I strongly recommend seeing this picture if you are a fan of westerns. "It's the biggest little show in the territory." Grade: B
Kevin Robbins
More Dead Than Alive Quotes
There are no approved quotes yet for this movie.
Discussion Forum
Discuss More Dead Than Alive on our Movie forum!