The More the Merrier
(1943)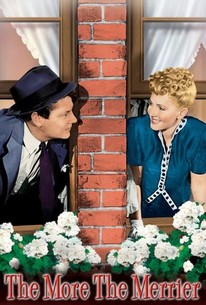 The More the Merrier Photos
Movie Info
To fully appreciate The More the Merrier, it is important to know that, during WW2, there was an acute housing shortage in Washington DC. This is why elderly Benjamin Dingle (Charles Coburn) is obliged to share a tiny DC apartment with pretty Connie Milligan (Jean Arthur) and handsome Joe Carter (Joel McCrea). After nearly two reels of misunderstandings, the trio becomes accustomed to their curious living arrangement. Joe takes a platonic liking to Connie, but she's engaged to stuffy bureaucrat Charles J. Pendergast (Richard Gaines). Sizing up the situation, foxy Benjamin contrives to bring Connie and Joe together, in spite of themselves. Things get dicey when Joe endeavors to complete a top-secret mission for the Air Force, which leads to all sorts of comic complications and misguided remonstrations. Throughout the film, director George Stevens and the four-man screenwriting staff deliberately tweak the noses of the Hays Office, getting by with any number of censorable offenses by deftly and tastefully sidestepping the obvious. Especially potent is the scene in which Joe tries to seduce Connie by talking about everything except seduction: it's also fun to watch Dingle robustly repeat the word "Damn" over and over, getting away with this breach of censorship because he's quoting Admiral "Damn the Torpedoes" Farragut. An Academy Award went to Charles Coburn, while nominations were bestowed upon Jean Arthur, Joel McCrea, George Stevens, the screenwriters, and the film itself. The More the Merrier was remade in 1966 as Walk Don't Run, with Cary Grant, Jim Hutton and Samantha Eggar.
Critic Reviews for The More the Merrier
Audience Reviews for The More the Merrier
½
George Stevens' comic war-at-home tale about the housing and man shortage in Washington D.C. that works principally because of the chemistry of its cast, particularly Charles Coburn as a businessman turned Cupid. Joel McCrea is the standard stalwart male lead, and Jean Arthur is wonderful as the woman whose friendship is more important than how she looks. Some nice screwball bits in here.
Kevin M. Williams
Super Reviewer
Although there were a couple of movies with this same story, I enjoyed this one. The actors are good and the movie is very funny.
½
starts off screwball and ends somewhat sappily. it's easy to see the template for every lame romantic comedy in these old films. the cast is delightful: hilarious charles coburn who won an oscar for this role, the underrated joel mccrea and always charming jean arthur; 43 (!) and still adorable
Stella Dallas
Super Reviewer
The More the Merrier Quotes
There are no approved quotes yet for this movie.